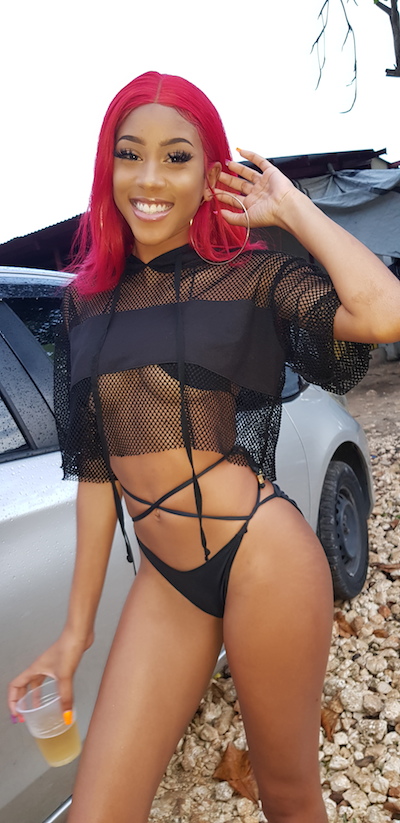 Singjay Lanae is upbeat about the prospects of her second single, 'Hi School' , which was released on the LGC Entertainment label on September 9th. The song has been in rotation on radio, racking up spins on Mello FM, Suncity Radio and ZIP FM.
"The response has been great so far, it is playing at weekly events in Portmore, and in the Corporate Area. The response to my live performances at the events has been overwhelming, and I am so grateful to my fans online. Save the music!" she said.
The model-turned-artiste burst on the scene like a cyclone with her first single, 'Baddest Ish' two months ago. The song racked up thousands of views on YouTube and Instagram , and propelled the budding young artiste to 56 thousand plus followers on her IG platform.
A graduate of the Montego Bay High School for Girls, Lanae grew up in Montego Bay, and after leaving high school, she tried her hand at modelling, doing several events at hotels in and around Montego Bay, and at entertainment events at Pier One. Last year, she dabbled in the world of pageantry when she entered and won the regional Ms. Universe Jamaica Northwest pageant, grabbing the Miss Congenial title.
Later that year, she also entered the Ms. Jamaica Universe contest where she placed in the top 14, winning the Miss Congenial sectional prize again.
Lanae is now in her final year, reading for a management studies degree at the University of the West Indies, but she is fully focussed on her music career. Last week, she made the rounds at a number of the weekly events such as Hot Mondays, Sexy Tuesdays, and Bounty Sundays.
"I want to big up the selectors who have embraced me at the events, I performed a capella and got a lot of forwards, right now, my career is on the right path," she said.