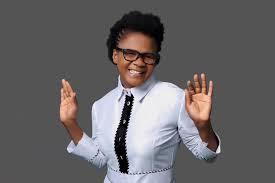 Minister Marion Hall, formerly Lady Saw, has returned to the dancehall with a bang , dropping no fewer than two dancehall-tinged gospel tracks, 'Mi Soon Alright' and 'From Mi Born', jointly released on the Hitmatic Records and RP Record labels.
"I sang the first song on whatsapp and then Wayne 'Rawborn' Bennett did the riddim. He collaborated with Oneil 'Clarkie' Clarke of Hitmatic Records who was the first person to do a gospel concert with me, he did two to three concerts with me. Clarkie was very respectful , he did a lot of dancehall shows and parties , and he was so respectful , he chose not to sell liquor. They know what they're doing, I have confidence in my dancehall gospel songs, they are my brothers," Minister Marion Hall said.
The songs were both released on the labels on January 8th.
After converting to Christianity five years ago, the ordained minister and gospel artiste has avoided the dancehall space. However, after spiritual advisor Nardo 'RT Boss' Smith accused her of practising obeah on deejay Spice four weeks ago, Hall said God is shaking up her purpose by sending her into Dancehall to win souls.
"The song, 'From Mi Born' ah fire, Holy Ghost fire, Holy Ghost bomb! The world is watching , the world is listening , the world is excited and the devil is silent. God gave me a holy ghost missile and we dropped da bomb ya, straight down ah hell. We are not afraid, we are armed and dangerous in the Kingdom of God, me and mi Holy Ghost," she said confidently.
Minister Hall said she was compelled to refute the allegations made by the so-called 'spiritual adviser'.
"It wasn't gossip, it wasn't an accusation. God gave me Psalm 35 for the accuser and Psalm 7 for myself. No one can read a Psalm 7 over their lives unless they are free, innocent, clear of all charges….all charges against them unless dem bun up, so I bless God for that. Then God say, missile, Holy Ghost Bomb, don't play with the Children of God," she said.
Late last year, dancehall artiste Mr. Vegas had criticised Minister Hall for responding to Smith. According to Vegas, if Hall were a true Christian, she would have avoided the controversy as the Bible instructs. He also mocked her upcoming diss record Mi Soon Alright, claiming the song's style is indicative of her desire to "screechie back inna dancehall." She dismissed comments of that nature.
"If there are Christians who believe that I should have (not responded), I don't know who they are, but the warriors that I know, they knew from day one that they troubled a hot head Christian, da Christan de have some fireball you know, HEH!. People just keep praying me up. My manager said , 'remember you are a woman of the word'. But leave it alone manager, you don't get it, God is doing something over here, you don't understand, so I drop a Holy Ghost bomb, straight down a hell obeahman gone," she said.
Minister Hall said that the inspiration for 'Mi Soon Alright' came directly from the Almighty, and is not a direct response to the social media spat with the spiritual healer RT Boss.
"With 'Mi Soon Alright', I was in my house, talking to the Lord and I heard the voice of the Lord say , 'yu soon alright'. So I opened my mouth, and I started to sing 'mi soon alright, mi soon alright, mi soon alright. I had it in my head a week and a half before all this happened, I was telling people on my Facebook where I preach on Sundays and Wednesdays, and it doesn't have anything to do with that, I got the inspiration before all of those things dropped. It was about the pandemic, a song for people who are going through hard times, a lot of people losing hope, they're fearful," she said.
"I have put out a song that not just Christians can relate to, but a lot of people who are going through hard times. People ah ask if Marion alright, but this is to tell them, mi soon alright bless the Lord."
She also refuted allegations that she is heading back to the dancehall as "Lady Saw". She merely wants sinners to dance like "David when the Ark of Covenant" was returned to Jersualem
"I am not returning to dancehall, I am dropping a dancehall album. I have already started it. I will be recording three songs in Fort Lauderdale next week. These songs are just to wake up people, to say, 'You like to party, did you know you can dance like David to these songs? David, the same David in the bible, who God said was a man to his own heart danced when the Ark of the Covenant was returned. David was celebrating the glory of God, the glory is back in his kingdom and he was dancing, these songs can have you dancing like David, it's a joy," she said.
Minister Hall said Christians must be robust and forthright in the battle to win souls, even if it means descending into places of ill-repute.
"There are Christians who are so scared. When jesus walked the earth and walked among men, he went among thieves and prostitutes, they needed to be delivered, he cast out demons out of men and women, he had meals with the sinners, the Gentiles, the Scribes and Pharisees asked, 'what is he doing?' He said, 'I didn't come to call the righteous, I come to call sinners unto repentance', that's what I am going to do, save souls, " she said.