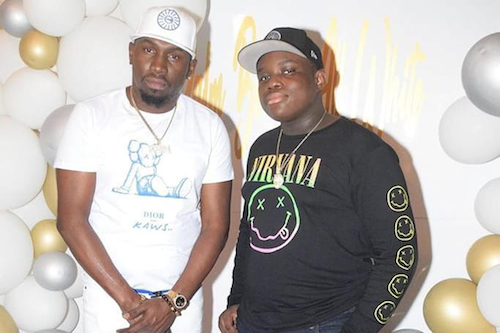 Veteran Dancehall selector Foota Hype has introduced his 14-year-old son to the world on his Instagram page, reigniting the discussion around the paternity of the child which had previously been attributed to fellow Alliance member, Flexxx.
Hype posted today, "I'm accepting all my blessings from the universe even if it's late it's still a blessing officially introducing my son to the world God bless OMARI."
Users openly mocked Flexxx for wearing a 'jacket' – unwittingly rearing another man's biological child as your own – in their posts.
"Then flex really take so long fi get d hint. D very obvious one."
Another sardonic wit exclaimed: "Foota!!! Flex deh sum weh Inna him house a punch di bed a say him wah back all a di money him spend pan di lil man di 14 years ago oh gad."
One user took the mature route, and applauded Flexx for his stepdaddy role: "Dead stamp a yuh bredda. Bigup Flex sed speed. He played a big role in the kid's life."
The entire saga has been unfolding on social media for the past week, with both Flexxx and Foota Hype taking to Instagram LIVE to provide details on their history and how they happened to be involved with the same female. When the story initially broke, Foota admitted that he had known about the paternity of the child.