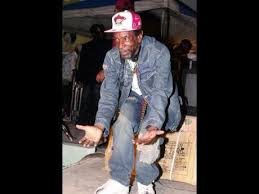 Well-known dancer Labba Labba is reportedly dead after rumours emerged over the weekend that he had been found dead in a house in the community of Arnett Gardens,
Checks with his peers like Cullo Cullo confirmed that the rumours appear to be true.
"They said that they found him dead inside his house, him is a Junglist like me but him live inna a next side of Arnett Gardens so mi don't get to go over there go confirm it but nuff people ah say it now," Cullo Cullo told one876entertainment.
Boyzie Roses also confirmed that he had heard the rumours.
Labba Labba, who is known for dances such as the eponymous Labba Labba and the Swim By, is a popular figure in dancehall circles for his eccentric dancing style. He was reportedly in his sixties and he is mentioned in songs by Elephant Man and other artistes for hs dance moves.