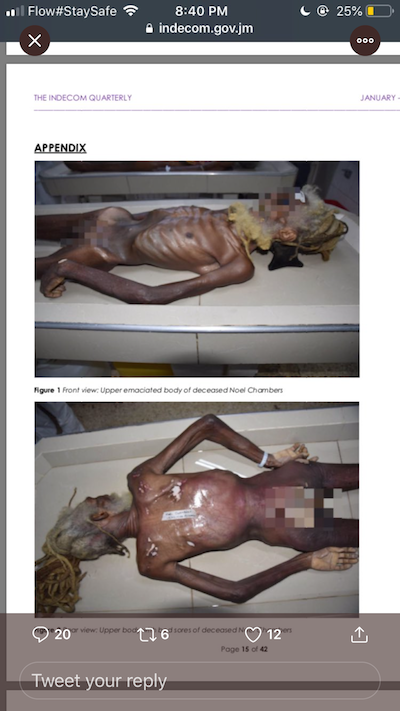 The general public has reacted with a mixture of dismay and horror at the death of an 81 year-old inmate, who had severed 40 years in prison without being tried or convicted for an offence. Photos emerged on Twitter that showed the emaciated, insect-bitten body of the 81 year-old man who seemed to have been malnourished and mistreated while incarcerated even though the official cause of death has been established as a kidney infection.
One user reacted: The man is completely skeletal!! this is wickedness!!!!! Justice!!!!". Another said: "That's not real. No man. No."
Former spokesperson and founding member of Jamaicans for Justice (JFJ), Susan Goffe reacted by tweeting: "His condition at the time of his death indicate he had been kept in the most inhumane and horrific conditions. What now, #Jamaica?".
A report published on the The Independent Commission of Investigations' ( INDECOM) website said: "His (Chambers) medical record shows that on November 4, 2019, he was examined because he was not eating well, had poor vision, and flu-like symptoms. He was admitted to Kingston Public Hospital (KPH) between November 21 and 28, 2019."
The report continued: "There is a referral on file from Tower Street Adult Correctional Centre (TSACC) for KPH dated December 15, 2019 having shown a history of hypertension, diabetes and cholesterol; however, there is no evidence on file that he was taken to KPH. On the night before his death, he was found unresponsive by a medical orderly, taken to KPH and thereafter was pronounced dead. The cause of death given at the post mortem examination was acute pyelonephritis (a sudden and severe kidney infection)."
At the time of his death he was in a deplorable physical condition. His clothing was filthy and his body showed evidence of chronic emaciation. He was covered with what appeared to be vermin bites, live bedbugs ('chink') and he showed signs of having bed sores, the report detailed.
The report said that on January 27, 2020 the Commission commenced an investigation into the death in custody of Noel Chambers of the Tower Street Adult Correctional Centre (TSACC). He was incarcerated on February 4, 1980 and had been in prison for 40 years without being tried. He was being held at the Governor General's pleasure, deemed unfit to plead to a charge of murder. Therefore he was being held in custody without being convicted for an offence.
The report concluded that the "overall lack of timely and adequate medical attention, in addition to his indefinite incarceration and poor hygiene, highlight serious breaches of his Constitutional rights, the Criminal Justice (Administration) Act (CJAA) and the Correctional Institution Rules".
The report also detailed the plight of a man, identified as GW has been incarcerated for 49 years, at the Court's Pleasure for an offence of murder. The inmate's psychiatric condition (fit or unfit for trial) is
unknown. The last listed court date was 1970.
Of the 146 persons detained, there are at least 15 persons who have been incarcerated for over 30 years.
REMEMBERING IVAN BURROWS
One of the most celebrated cases of a mentally ill inmate languishing in prison the Governor General's pleasure is that of Ivan Barrows.
Barrows, who calls himself Ferdi Nettleford, was charged in 1972 for malicious destruction of property for breaking the glass pannelling of a bank in Chapleton, Clarendon.
He was taken to court in May Pen but was deemed unfit to plead and remanded him in custody until he was well enough to plead.
But he was instead sent to the St. Catherine Adult Correctional Centre and was never brought back to court.
"They abused him in prison; they did bad things to him there," his relatives told a reporter at the time.
Barrows maintains that he was raped by a warder, and his anal cavity was slit with a knife so the waste his body produces constantly leaks out. Barrows also emerged from prison visually impaired because while in prison, "someone threw disinfectant in his left eye".
HUMAN RIGHTS INTERVENTION
He was released from prison without trial in April 2001 after the Independent Jamaican Council for Human Rights (IJCHR) intervened in the matter. In April 2001, the May Pen Infirmary refused to accept him but eventually his family took him in, and he has been receiving excellent care since then.
The Supreme Court awarded him $9 million in damages for his incarceration and abuse in the prison system.
It is unclear if Barrows is still alive.