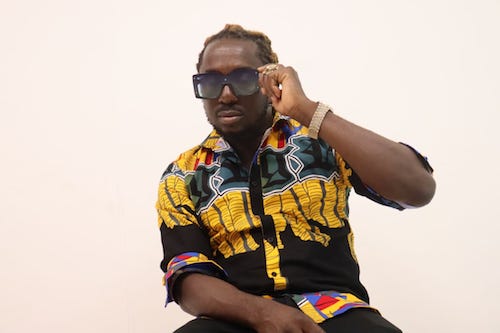 Dancehall-reggae artiste Hot Topic knows the true meaning of a mother's love. That's why when he penned the song, 'Mama I Love You', a song which hits home in a real way so much so that tears fills his eyes whenever the artiste hears the song on the radio.
"The song is based on my true life story, the struggle I had to go through. My mother had 11 kids and she raised six more with her 11. It was 22 of us grow up in a one bedroom house, my mother used to cut up rice bag and stuff it with grass to sleep on, it was rough," the artiste whose real name is Calvin Wisdom, said.
He grew up in the Bloomwell district, close to Spaulding, Clarendon with his siblings.
"We live good, we keep the bond, my eldest sister go up to the USA and carry up most of us one one go foreign," he said.
Hot Topic said it was his mother's love that literally kept him alive. As a youngster, he had severe health problems that challenged the family's meagre resources. Hot Topic revealed painfully that his mother even flirted with the idea of abandoning him on more than one occasion because of the terrible community-borne rumours that he had a 'spiritual affliction'.
"My mother loved me a lot, I had it really rough. When I was young, I was sickly and people used to talk say 'duppy de pon me' and she admitted to me that several times, she left mi a roadside ah Spauldings because of the pressure and she turned back for me every time. She fight with me, do the best for me, a real mother's love, that's why I am alive today," he said.
The financial challenges forced him to drop out of the Thompson Town Secondary school. At age 11, he moved to Waterhouse to live with an aunt, and never returned to secondary school. When he became an adult and left his aunt's house, the struggle only intensified.
"Sometimes for three months, mi no eat no cook food. Mi eat June plum and ripe guava, if me hustle a money and buy a bulla, mi mek it serve me all three day. Sometimes when mi belch, froth come out," he said.
He started to walk to studios all over Kingston, and even Spanish Town to record songs. He eventually got into a group called Tag Team that recorded at Shocking Vibes but that didn't last long. He entered Digicel Rising stars in 2008, then rattled around Kingston seeking more opportunities. He entered the Jamaica Cultural Development Commission's festival contest in 2012 under the name Rasta KeeKee and became a finalist with 'Jamaica Mek Ya'.
He entered the JCDC contest again two years later changing his name to King Solomon, and he got to the top ten again. In 2017, he even landed a collaboration called 'Calling Out for Love' with Sizzla Kalonji who he had forged a friendship with years ago. However the song was never officially released.
In 2019 he linked up with young producer Power Forbes and started to finetune a new sound, changing his name once again to Hot Topic. He has been locked in the studio working on a number of tracks.
One of those songs is Mama I Love You which will be released on April 25th on the Power Forbes label. The song will be distributed by Zojak Worldwide on all digital platforms.
"We shot the video last week, and it will be released on the same day, just in time for Mother's Day, mi just want people to support the song. Check out Hot Topic on my social media pages," Hot Topic said.
Producer Junior Forbes started the Power Forbes recording label in New York City, New York in 1997 where the producer worked with acts such as Frankie Paul, Dennis Brown, Ginjah and others. He returned to Jamaica where he started to work with the artiste Hot Topic.
"I would like to big up Lenky who made the riddim for this project. Ginjah is also on the riddim with a song call Ghetto Youth," Junior Forbes, founder and chief executive officer of Power Forbes Music, said.