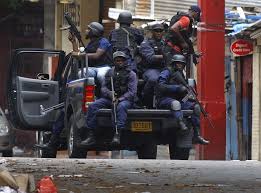 Callous criminals slashed the throat of a nine year old boy after a car hijacking turned fatal in Fairfield, St. James.
The St James police said they were alerted to the carjacking incident about 11:45 am during which a woman was robbed of her Audi motor car. The child was trapped inside of the car as the violent incident unfolded and the robbers escaped with the child in tow.
Before midday, the Audi was discovered abandoned in the Fairfield community of St James. The nine year-old, throat slashed, was found in the motor car.
"She was on her way to Irwin when some guys pulled over her Audi A5 and pulled her out the car and sped off. Her son (only 10 years old and has Down syndrome) was in the backseat of the car. The wife borrowed someone's phone to say that the car was speeding off, he had a tracker on the car and followed the tracker on the way to Granville and saw the car pull over to the side of the road. He said upon walking up to the car he saw his son on the backseat of the car with blood on the seat and when he open the door the robbers had cut his throat from ear to ear," one eyewitness said.

The child was pronounced dead at hospital. Investigators are pursuing several leads.