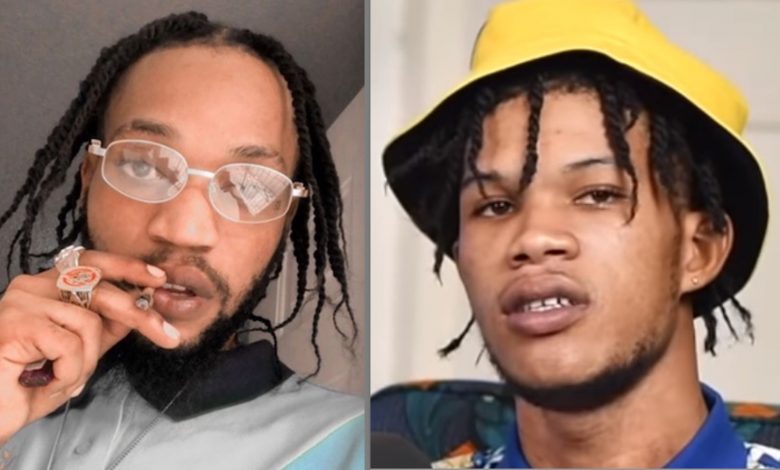 After a flopped show in London over the weekend with entertainers Silk Boss and I Waata, a UK promoter Corey Max went on a tirade during an Instagram Live, accusing the entertainers of using intimidation and 'badness' as they demanded their performance fees.
Corey Max also alleged that the entertainers had stopped answering their phones,which led to the cancellation of two other shows.
However, Terro Don, the manager of Silk Boss, has refuted the allegations of unprofessionalism. He said he had originally agreed on a fee of 4,500 pounds sterling per show for Silk Boss for what was intended to be three gigs in the UK. He still has not received payment for the first show for Silk Boss, and he said that the promoter reneged on his side of the bargain in the areas of accommodation, performance fees and per diem commitments.
"We agreed that we would have hotel accommodations until the tour was over and we would get a deposit before boarding the plane and the remainder before we left the hotel, that was a verbal agreement. None of that was fulfilled, not even the per diem," he said.
He said there was no official contract signed because of a technicality.
"We never pressured him on the contract, cause you know we ah gangster and we understand his situation. Anyway, after the nine hour flight from England, we reach the airport and come outside and there is no van only a two door car to pick us up. He booked the hotel accommodation on the same night, it wasn't a great hotel, but we understand say is a tour, we not there for comfort," Terro Don explained.
Terro Don said that the promoter, Corey Max, did not appear to be organized. For one, the same day that the entertainers were granted the visas was the same day they travelled to the UK to do the first show of what was expected to be a three-date gig.
" The show night, it look like him just a go secure the venue, we say where is the money promoter? No money.We go the show, Silk Boss gave his full performance, him never hold back, him go hard, the people dem love it. After the show, no money. We went back to the hotel and at 12 noon, the hotel personnel come tell we say we have to leave the hotel now, and they will be kicking us off the wifi because only one night was paid for ," he said.
Terro Don referred to the venue as a "little underground club".
The promoter explained that he had brought the deejays and their teams to a Travelodge Hotel, as a matter of convenience just to ensure they had accommodation immediately after the flight. He said that artists and entourage made disparaging comments even describing the place as a "f%$%#k shop".
Terro Don said repeated requests to the promoter for remuneration were ignored.
"We call the promoter, we ask him weh the money de? Him say nothing nah gwaan, ah just 900 pounds sterling him mek and him give it to I Waata people. Him say him have a 1000 pounds sterling somewhere else, we saw gwaan fi it and all now, him nah answer we call," he said.
Promoter Corey Max says that Silk Boss invaded his personal space and was "in his face like a badman" when the discussions regarding the payment for performance fees became heated. Terro Don denied this happened.
Terro Don said it was fortunate that Intence's uncle offered help and support in frigid England.
"If it were not for Intense's uncle who lives in the UK, they would have been stranded in the middle of winter. Big up to Intense uncle, ah him come buy we food and give we somewhere to stay after we inna the cold and up ya cold different, is like a deep freeze, when yu talk, ah smoke come out yu mouth," he said.
The touring party later found out that the promoter had bought a one way ticket so they are now forced to sing dub plates and 'hustle' to earn enough money to buy their tickets to return to Jamaica.
"We have kids, we have family, what we going to tell dem say? Is like a joke thing to fly so far for this to happen. This is a learning process and ah warning for all young artistes to be wary of some promoters," he said.
He said he has booked for two more hypothetical dates, but no money was paid for the first show so they did not even consider doing the rest until there was some sort of remuneration offered for their services
The visas of the artistes and the entourage expire on February 11th.
"This man has been threatening us that when we go to the airport, he is going to attack us. This is a learning experience and it shows what artistes have to go through sometimes to pursue their love of music," Terro Don said
The promoter has threatened to instruct immigration to cancel the visas of the artistes and their entourages, and added disparaging comments even accusing "Silk Boss of wearing a Fake Fila".