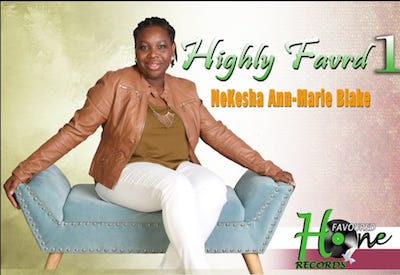 Gospel singer Highly Favrd1 is pushing along with the promotion of her popular single, 'Remember the Yam' – a nostalgic mento-flavoured song reminiscing about the island's roots and culture. The song, released on her own H Favrd 1 label in July 2019, has gained traction among radio disc jockeys in Canada and Jamaica over the last few weeks as she has amped up promotion.
She will be releasing the video this week.
"The line 'remember the yam used to nyam' came out of a conversation with my father. Radio broadcaster Barry G heard the song, loved it and started playing it, Mutabaruka heard it and asked for the Yam song and began playing it, everything has just been happening naturally. The song has a great message that one must never forget their roots and never throw stone behind them," she said.
The song is the lead single of a six-song EP showcasing the genres of calypso, Afrobeat, gospel and reggae.
"The 'Remember the Yam' song just took off," the artiste whose real name is NeKesha Ann-Marie Blake said, laughing.
Highly Favrd1 recently performed in Toronto alongside Minister Marion Hall on Sept 7th, and she will be releasing a video for 'Remember the Yam' next week.
She is gearing up to release her debut gospel album, "Breaking Me to Bless Me' next year. Highly Favrd1 is an incredible singer capable of searing and powerful vocals, and on her gospel songs, she possesses a singular ability to use melody and lyrics to describe the powerful experiences she has encountered while in the presence of God.