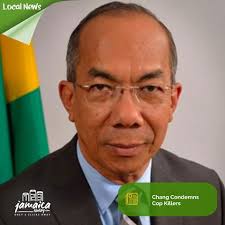 National Security Minister Dr Horace Chang showed up at Boasy Tuesdays held at the Little Kew community in Kingston earlier this week.
"I am here as the minister tonight to get a feel of the event because we understand that you obey the law," he told patrons at the event.
He made reference to the outdated Noise Abatement Act
"I like the vibes. We understand that you need the opportunity to do business and display the creative talents of Jamaica as we can see tonight; we see it clearly and if you do it well, we'll allow the people, the dancers, the musicians to do better for themselves. The goal of any law and Government is to give business people opportunities to build a business. If you prosper, the country prospers and all of us prosper," Chang told patrons at the popular weekly event.
In closing, he congratulated the organisers on the event and vowed to return, a promise that elicited cheers from the audience.
The No Music, No Vote campaign gained momentum four weeks ago after retro party, Footloose, was ended prematurely by the police at 2:00 am, though its promoter said his permit reflected a 4:00 am lock-off. Since that time, there have been a series of high-level meetings between government ministers and the exponents of the dancehall artform in order to hammer out a rapprochement that suits both parties.