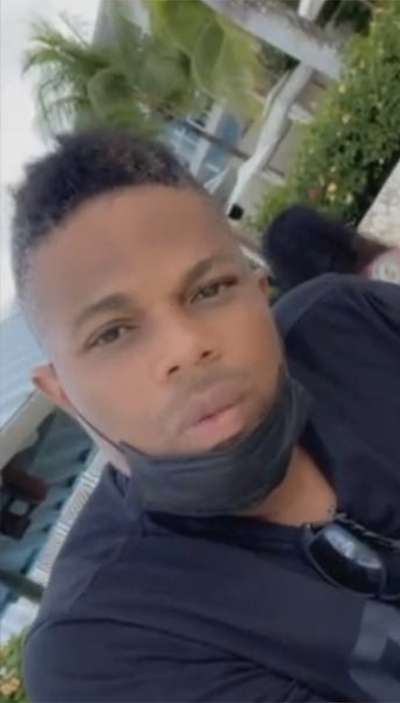 DEATH IN THE DANCEHALL
I'm not sure anymore, more
Who is knocking on my door, door
All the faces that I knew
So sunny and blue, blue
I-man can see it in the sky
Tenor Saw already die die
…When dem a go stop kill off the superstar? Super Cat
Claude Mills
Freelance Writer
A rash of events over the past week has resurrected fears that dancehall's long flirtation with violence and death may be shifting into a new dangerous phase – one where the artistes themselves may be living out the trigger-pulling gun-fantasies that dominate their songs, and worse yet, fighting among themselves.
"I have never seen it this before where deejay and deejay a literally war," Isaiah Laing, director of Supreme Promotions, said.
"Panhead died from gunshots and it was rumoured that it was another deejay who did it but it was not proven. The way it is being programmed now, if anything happen to either one of these artistes, they are going to say it is the other one who did it."
Last week, two separate incidents where eyewitnesses allege that they saw deejays firing shots at a barbershop in Cassava Piece and then later at a studio in Havendale, St. Andrew.
"Even in the early days of Beenie-Bounty feud, it was never like this because those two artistes want to see each other in the business, but these artistes…we're flirting with disaster, I feel some very important people are going to die, given the direction of the music right now," Mr. Laing said.
If you listen to industry insiders talk, there is no rhyme nor reason for the edgy tension and animosities in an industry where having a good time is the major raison d'etre . However, there has always been a bit of an uneasy 'alliance', if you will, between death and dancehall, one of the island's indigenous art forms. Jamaica itself is an enigma because there is so much that is attractive about this country and so much that is repellent. Europeans jam by the thousands to roots rock reggae with its conscious vibe, while the more rebellious young people have a great fascination with the younger idiom, dancehall, with its outsized 'anything goes, nothing is verboten' full throttle take on life.
Dancehall chronicles in scathing scatological terms the violence and feats of sexual gratification that run like a fault line throughout the Jamaican society. The genre itself, by its very nature, creates a paradoxical set of issues that can bolster a dancehall artiste's careers even while putting that artiste's life in mortal danger.
Most artistes, once they 'buss' and gain wealth, become folk figures in their community, and build mini-fiefdoms around themselves where they call the shots. However, Laing contends, most entertainers are not natural leaders who can handle the power that they suddenly wield.
"They can't handle the hype," Laing concluded. "And they have to understand that these are serious time. There are too many guns in the wrong hands, and given the fact that there are not many convictions for murder because of the justice system, a killer might get away scotch free, or without even being arrested, so these followers might be inclined to do anything."
Laing says he understands the unique pressures facing these young men.
'"I was glorified as being a bad boy police, but if you were to come in a crowd where I was, you couldn't know who is Laing because I was humble, even though deep down, I was hype because I know that I could do when it was time for action when me and he real bwoy dem buck up. They need to know that they are role models and act in ways that command respect from the entire society."
Since 1980, the violence in Jamaican society has reached pandemic proportions, and the continued murders that occur merely underscores the increasingly perilous state of young black men in Jamaica. Not even entertainers are exempt from the mad carnival of criminality. Gerald 'Bogle' Levy was killed by assailants in January 2005, He was hardly the first dancehall personality to die in a hail of bullets because General Echo, Tenor Saw, Nitty Gritty, Dirtsman, Panhead and Early B all met brutal early gunshot-related deaths. Some schools of thought blame dancehall deejays and personalities for the poor choices they make once they acquire wealth and material success because several continue to pledge allegiance to the ghettos they grew up in and the often exhibit a willingness to partake in dangerous situations.
"Some get too rich and tun eediat. Dem come from nowhere and ah drive X5, Rolls Royce, BMW, so dem de pon top of the world, two yute ah call dem bossy, but none ah dem anno real bad man," Ninjaman, a deejay who has had several scrapes with the law himself, said.
"Dem was barber, baker, mechanic long before dem buss, Kartel and Mavado anno bad man, everytime dem run gone ah station, old time bad man like Josey Wales, Super Cat or me, we nah do dat, we ah put it on pon you. So if Josey Wales see the light, Super Cat see the light and me, who have the worst name of all, see the light and we can change, what happen to dem and we pave the way fi dem mek millions of dollars," Ninjaman reasoned.
"The community fi get together and beat dem, dem not even bad like me toenail. Dem need fi put demselves inna the vein where people can see them and respect dem…badman name is not a recommendation," he said.
He also warned the entertainers that the "fans will take the powers away from you" if they continued to abuse the respect they had been given.
"If they should take time to drive around Jamaica and see the development taking place, they would not want to destroy this country, they need to make their minds develop much the same way the country is developing and be aware of themselves so that Jamaican can prosper and create a future for them and their children," Ninjaman concluded.
STREET CREDIBILITY
Many deejays feel that they have to spend their time in the 'garrisons' to maintain their street credibility.
"We have to be out there, in the garrisons, that's where our hardcore audience is. If you're hot, you're hot in the streets, and that's also where you can run into a lot of trouble. That's the risk, doing what you do to 'buss' is what can get you shot," one deejay who spoke on condition of anonymity, said.
The fact still remains that there is an attraction to criminal and violence for the nation's huge pool of undereducated men who are falling even further into a maelstrom of joblessness, poverty and prison. Dancehall, by its very nature, represents a unique subculture of Jamaica, and it has its own particular sets of laws, idiosyncracies and rules that govern it. You got to be in it to understand.
In Vybz Kartel's single, 'AKA', he deejays: "AKA, we don't play, f*& all night, smoke all day/cloth A.K./Still deejay/We play music, we don't play…" That shows that dancehall is one of the few professions where you can drink Guinness all day long, and smoke weed, and it can still be considered "working". Many of its heroes come from dysfunctional backgrounds, and despite their material success, they have little chance or desire to achieve 'upward mobility', and despise the' cocktail party culture' of the island.
"I live uptown, but I party downtown. In Jamaica, the ghettos are everywhere and the people are real, and loyal. My uptown neighbour nah go watch my headback, mi need the ghetto so mi stay well protected. I have to stay in the streets to keep current in the dancehall, and if that means exposing myself to danger, that's just like in Jamaica….death de everywhere," another top deejay reason.
Dancehall's cousin has the same problem. The twin patron saints of slain rappers, Notorious B.I.G, whose mother is Jamaican, and Tupac Shakur, both of whose fascination with thug life and death meant they were doomed to repeat the macho street theatre they lived out in their songs. Other rap stars such as Run DMC's Jam Master Jay (slain in 2002 in a New York recording studio) and Scott La Rock (whose 1987 killing in New York was the first high-profile rap slaying) died in their own communities.
SOURCE: http://www.musik-news.org/post/36032/Reggae_obits.html
Bionic Steve Killed
Marcus 'Bionic Steve' Townsend, an entertainer made popular by his feisty song Fly the Gate, which was turned into a political anthem. Bionic Steve was shot and killed on January 17, 1997. His mangled body was found in a gully on Spanish Town Road.
Black Rat (David Bingham) Killed
Humourous deejay Black Rat was shot and killed on July 20, 2002 at his home on Dunbarton Avenue in Kingston 10. His assailants also made off with jewelry valued at $15,000.
Carlton (Carly) Barrett b. 1950
On Good Friday of 1987, news about Carlton Barrett's death made the rounds. The original drummer of the Wailers was allegedly ambushed at his gate by his ex-wife's boyfriend. His death sparked many glowing tributes and he was hailed as one of the greatest drummers to emerge from the island of Jamaica. He reputedly originated the 'One Drop' rhythm and has songwriting credits on two songs from Bob Marley and The Wailers' Natty Dread album – Talkin' Blues and Them Belly Full.
Charlie Ace
Gunned down in Kingston Early 1980's
Dirtsman(Patrick Thompson) b. 1967 Spanish town
Robbed & Murdered December 21st 1993 Spanish town JA
Patrick 'Dirtsman' Thompson, Papa San's older brother, was shot dead at his home in Dela Vega City, Spanish Town, St. Catherine.
D.J. Village (Horace Pinnock) b.1977 JA
Shot dead in London after a Robbery November 20th 2001
Early (Earlando Neil) B "The Doctor"
Shot Accidentally at the Windsor Cricket Club, Dorchester MA. September
11th 1994
Errol Thompson(J.B.C. DJ) 1952 Kingston
Killed In Kingston 1983
Free I (Jeff Dixon) b.1946 Manchester JA.
September 11, 1987 was a sad day in Jamaica, as the country reeled from the news that one of the original Wailers, Peter Tosh, along with his disc jockey and recording artiste friend, Free I, and 'Doc' Wilson had been killed at the singer's Barbican, St. Andrew, home
Garnett Silk (Smith) a.k.a. "Bimbo"- b.1970 Manchester JA
Garnett Silk also lost his life on December 10, 1994. Silk died with his mother at their Manchester home when an explosion resulted in their house being razed. Some reports say that the explosion was caused when a bullet punctured the cylinder outside the singer's house.
General (Errol Robinson) Echo
General Echo, also known as 'Ranking Slackness' was shot and killed in an alleged shoot-out with the police on Constant Spring Road on November 22, 1980. Flux and Big John, two members of his sound system, Echo Tone Hi Fi, also died in the incident. Part of Echo's legacy is his hit song Arlene.
Henry "Junjo" Lawes b. 1953
Henry 'Junjo' Lawes, credited with discovering talent such as Barrington Levy on his Volcano sound system and record label, was shot to death in Harlesdon, North London England on June 13, 1999.
Hugh Mundell a.k.a. Jah Levi b. 1962 Kingston JA
Killed In Kingston following a Robbery at his home 1983
Junior Braithwaite b. 1949
Junior Braithwaite, an original member of the Wailers also fell victim to the gun. He was shot to death in Duhaney Park on June 2, 1999. He was the lead singer on the Wailers' song It Hurts To Be Alone.
King (Osbourne Ruddock) Tubby b. 1941 Kingston
Gunned down following a robbery outside his home in Tower Hill,
Kingston February 6th 1989
Major (Wayne Jones) Worries
Major Worries was shot and killed by a security guard in Spanish Town in August of 1987. He was a deejay on the King Jammy's sound system, along with eventual superstar Shabba Ranks.
Poet Michael 'Mikey' Smith was stoned to death on August 17, 1983, in Stony Hill, St. Andrew, as he passed a political meeting. Smith was known for his scathing commentaries about the harsh realities of Jamaican life, as described in his often-recited poem Mi Cyaan Believe It
Mikey Wallace
Gunned Down In Kingston July 6th 1999
Nitty (Glen Holness) Gritty b.1957
On 24 June 1991 at 3:30pm while at Brooklyn, New York's Superpower
Records, Nitty Gritty and dj Supercat reportedly entered into an
argument over money and a Jr Cat stage show. Details are unknown, but it
was reported that both men fired handguns at one another and Supercat
allegedly shot Nitty Gritty four times. Nitty Gritty died on the spot.
To our knowledge Supercat was never jailed and he was found innocent on
the grounds of self-defense.
Panhead (Anthony Johnson) b.1966 St. Mary's JA.
Robbed & Killed outside his House In Spanishtown Jamaica October 1993
In 1993 deejay Anthony 'Panhead' Johnson, who was known for hits such as African Princess, was shot dead at his home on Davidson Avenue, Drewsland.
Paul Tyrell (Shocking Vibes)
Killed March 2004 Kingston Jamaica
Peter Tosh (Winston H. McIntosh) b. 1944 Westmoreland
Murdered at his Home September 11th 1987
Philip Linton (Owner & Producer [at] Arrows Studio)
Shot & Killed March 4th 2004 Outside his Studio
Prince Far I, a deejay, was shot dead on September 15, 1983. He was described by his biographer as 'a man to grace any style with wisdom, a chanter to quake the walls of the city, a preacher to strike fear in the weakheart, humble in the garden and proud in the city'. He became popular in the 1970s with Heavy Manners and Deck of Cards.
Tenor Saw(Clive Bright) b. 1966 Kingston
Found Dead on the Roadside, Texas (said to be a case of hit & run
driving) August 1998
Tenor Saw, best-known for his 1985 hit "Ring the Alarm," a song based on the then-ubiquitous "Stalag 17″ rhythm, was killed abroad in August 1988. He is also known for the classic, 'Golden Hen' and was the one who sang prophetically that 'when the roll is called up yonder he and Nitty Gritty would be there'. The album Wake the Town was released posthumously in 1992.
Theophilus Beckford ('Easy Snappin') b. 1935 Kingston
Brutally Murdered with Machete Kingston Jamaica February 2001
Turbo Belly
Shot & Killed In New York January 2004
Valerie Cowan (Tommy Cowan's 1st Wife)
Murdered in Kingston during a Robbery 1992