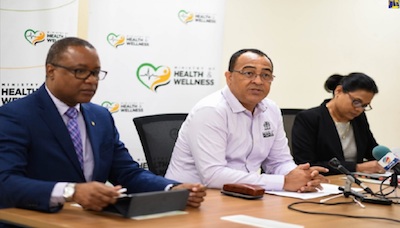 A patient who was being quarantined after returning home from China is now showing a "progression of symptoms". The Ministry of Health and Wellness reported that the patient has now been isolated at a medical facility.
There are 12 quarantined in government facilities.
Dr Jacquiline Bisasor McKenzie, chief medical officer, is reporting that the patient has been tested and that the results are expected in another two to three days. The announcement was made at a press briefing at the Health Ministry's New Kingston head office on Monday.
The patient had been quarantined as part of measures imposed by the Government late last month in response to the Coronavirus.
Last week, Jamaica imposed a ban on travel to and from China on Friday, a day after the World Health Organisation (WHO) declared the coronavirus outbreak a global emergency.
The ban, which is an upgrade from the travel advisory that was issued on Tuesday, means all persons entering the island from China will be subject to immediate quarantine for a minimum of 14 days.
In addition to the two patients in isolation, there are currently 12 quarantined in government facilities and 78 quarantined at home.