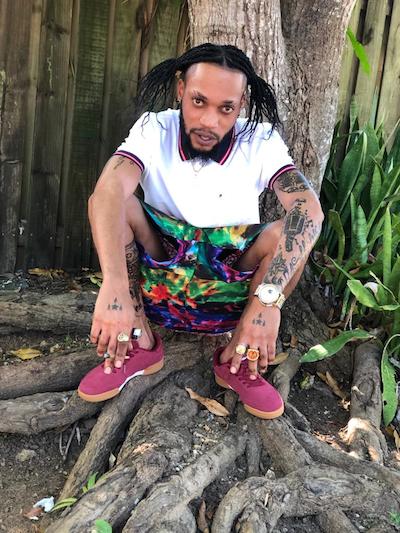 Dancehall new generation titan Jason "I Waata" Bailey continues to carve out a reputable name for himself within the release of a hot new club banger, Tr888 with epic visuals to match.
The rhyme slinger dropped a new track, Tr888 on the IWaataVEVO/YouTube a few days ago, and has already racked up over 132k views in one week.
The video shows I Waata hanging out in an inner city community surrounded by his friends. With his drink in one hand and a spliff in the other hand, he spits rapid-fire bars with his signature choppy flow as he speaks about his grimy lifestyle, his swag and the meteoric rise as an artiste.
The camera switches between twerking girls and the deejay growls: straight from mi born, mi no inna mixup/gone pon the beach gone get mi ting up/gal weh dem a wife up ah fi mi nympho/anytime we link up, we get every info.
The song is produced by Control Tower Squad while the video, shot & edited by Deth, is one of the top streaming projects released this week. The UK-based independent label Control Tower Squad is known for singles such as Spice's 'Woi' on the Landlord riddim, and the critically acclaimed 2014 rhythm project, Apple Vodka, featuring artistes Kalado, Patexxx, T Nitro, Italee, Limitless, Bad Suh and Black Kush.
"The song ah blow up, Quick Cook bring the riddim come give me, mi link up with Control Tower Squad now and the world ah play it, nothing no wrong up, no stutter, we Tr888, ah the code that," I Waata said.
According to I Waata, he recorded his first single in 2008. However, it went nowhere. Unfazed, he continued to work on his craft. His big break came when he opened Sting 2014 in Portmore, St Catherine, and he hasn't looked back since scoring his first hit song, Pat A Shake, then blowing up with mega hit, Cut Off Jeans.
He is presently promoting singles such as Bou Yah and Clip Tall, the latter of which has racked up 2.1 million views in only three months.
"Mi nah crowd the people, the ball game ah kick smooth as a bad man," he said.