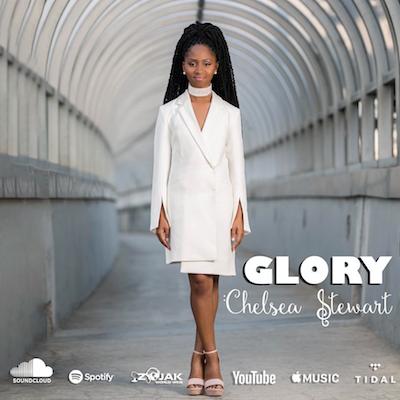 The year 2020 has been one of the most turbulent in recent history. People are searching for answers, comfort and solace, and a refuge from life's storms. That is why reggae songstress Chelsea Stewart has fast-tracked the release of a gospel-tinged track, 'Glory' from her debut self titled debut album.
"' The single, 'Glory' is a love song written to God," she said simply.
The lyrics of the song stay true to the themes of love that often dominate Chelsea Stewart's music, and the writers are unapologetically giving thanks to their higher power for that support that buoys and sustains their lives in these challenging times.
"Anyone can relate to this song especially if you are an emerging artist, entrepreneur or anyone embarking on a new venture in their life. We have all had to cry out to God in thanksgiving or out of anguish," Chelsea said.
The single, 'Glory', which was released on August 7th, is now available on all digital download platforms via Zojak Worldwide distribution. A video for the project has already been released and is iin rotation on HYPE, RE and FLOW TV.
"It has been a tough year, the year of a global pandemic, economic hardship, and death and 'Glory' is a reflective song that takes the listener back to times when God has come through for them…times when they prayed for help and received it. We turn to God in times of fear and uncertainty as we do in times of joy and celebration," the Juno Award nominee said.
The coronavirus disease that is spreading rapidly around the world was officially declared a pandemic by the World Health Organization on March 11. More than 18.8 million people have been infected, and the death toll is over 708,000 people. The numbers continue to increase daily, and the disease has impacted about 188 countries. Jamaica's COVID-19 tally now stands at 958. Twelve people have so far died.
"With all the terrible things so far this year, we have much to be thankful for, we have overcome a lot, the goal of this song is to also highlight the beautiful things that we take for granted in nature that God has supplied for us…we hope it will inspire people to remember all that God has taken them through and we also hope that this song will reinforce the fact that God is continuing to walk with us throughout all of our storms," the singer-songwriter said.
The song was written by Chelsea Stewart and her songwriting partner Karen Stewart. It is the second simgle released from her eponymous 'Chelsea Stewart' album which can be heard on all streaming platforms worldwide. Follow this young singer/songwriter on Instagram @cstewartsings