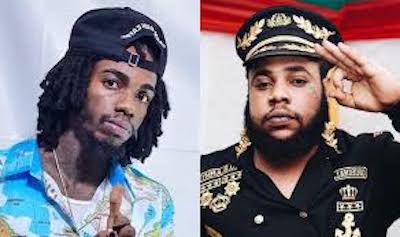 The stakes in the Alkaline-Squash beef has intensified with the release of a single called 'Death Announcement" on the Tru Ambassador label.
The cover art for the song mimics the Death Announcement and Memorial pages in the Daily Gleaner and contains the images for recently 'deceased' people, most notably Squash who he refers to as "Turtle Neck" and Squash's brother who he refers to as "Danny G", and a man with the dubious name of Shab Nyam, presumably producer Shab Don. The post was captioned, manhimselff Death announcement fi di tixx dem Nyam uno mumma #69gang#dead#murder#recreation @jahvyambassador".
Tension also mounted with the release of a video showing off several high powered firearms on a ludi board while a man narrated a litany of disses towards Chronic Law and Squash. Alkaline posted the video to his IG story, as well as a video of Squash's mom talking about the death of her son.
Squash had posted a video of Popcaan dissing Alkaline to his IG story a few days ago.
The song is presently #1 on Trending, racking up over 300,000 views since its release, but neutrals have found the effort disappointing. However, Alkaline's fans praised the effort. One raved:
Already number 1 on trending, easy does it, Alkaline detrown (sic) him self off number 1Already num", while another said: "
"Yuh general a freaky bwoy we see di 9 after the 6" and this song drop the 6th of the 9th 😂😂 the killer dem have tactics".
18
16