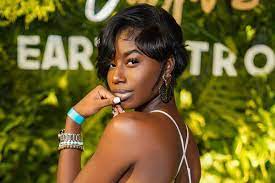 It appears that model Abihail Myrie will not be pressing assault charges against a family member who allegedly strangled her. According to Myrie's legal counsel, Ayisha Robb, her client didn't make herself available to the lawmen on Wednesday, nor does such an appearance seem likely today so that Myrie's name could be struck from the list of reported Missing Persons.
"She did not go on Wednesday and I am not aware of her going today, I spoke to her last night and I did not really address the issue of reporting. I am not sure what today will bring, I have communicated with her that there is no urgent need to report to the police station in relation to her being missing," Ms. Robb told one876.
Quizzed about the assault allegations, Ms. Robb said:
"I haven't taken any further instructions in that regard. She just wants to feel safe and it is still early days, I will give her time to process all that has transpired in a short space of time and instruct me accordingly. I will give her time to do that, these persons are her family, she is related to them by blood, so a balancing act will be exercised in her way going forward."
There has been a major brouhaha on social media since Tuesday when a missing persons report emerged on mainstream media alleging that the 20 year-old model was missing. However, Abihail and her brother, Jahazeil Myrie, shot down the police report.
Abihail Myrie, who is also sister to Jamaica Labour Party caretaker Jodian Myrie, and producer Markus Myrie, upped the ante when she alleged that she had been strangled and abused by a member of her family.
In the meantime, the Jamaica Constabulary Force said the model is yet to report to a police station so that investigators can eliminate her from the list of Missing Persons.
Contacted yesterday, Head of the Corporate Communications Unit Senior Superintendent Stephanie Lindsay disclosed that Ms. Myrie had not made herself available to the police investigators.
"She can report to any police station, we have to verify that she is really OK before her name can be removed from the missing persons log," SSP Lindsay said.
Abihail Myrie came to prominence in June 2020, when she was one of 13 people featured in a Vogue article about the #VogueChallenge, a tribute to the Black Lives Matter movement.