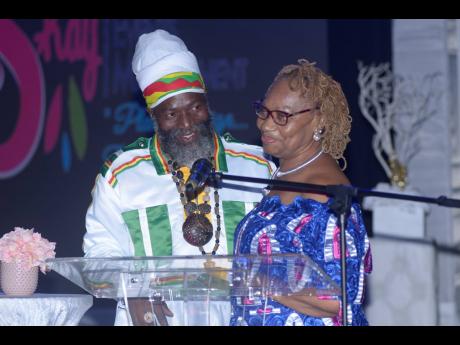 Claudette Kemp, the long time manager of Capleton, died at 1 p.m. today after a prolonged illness where she battled with kidney problems. She was given the Queen of Reggae Island Honorary Award in 2019. One of the few female managers in a music business, Kemp has managed the 'Fireman' entertainer for more than 22 years.
Capleton is one of dancehall's most flamboyant figures.
According to Kemp, he first approached her to be his manager in 1994 but she declined. She had a change of heart when he came calling again six years later.
She watched him mature and grow as an artiste and as a professional.
The Kingston-born Kemp was working at the Dyoll insurance company in 1980 when Poppin suggested she produce his song for the Popular Song Contest that year.
Poppin's song, Jamdown Festival, was released on Peter Tosh's Intel Diplo label. It had an all-star cast: saxophonist Dean Fraser (who also arranged it); trumpeter David Madden, trombonist Nambo Robinson, and guitarists Willie Lindo and Winston 'Bo Pee' Bowen.
Stanley and the Turbines' Come Sing With Me won the contest, but Kemp decided to stay with the business. She managed Hammond for 11 years before assuming the reins for Capleton.