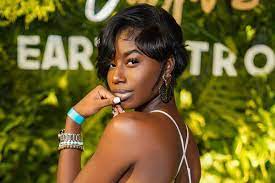 Abihail Myrie, the daughter of the reggae star Buju Banton, has accused the Grammy winning artist of trying to strangle her in the wake of the wide circulation of a missing persons report which she labelled a "lie".
Her lawyer has said that she will make herself available to the cops tomorrow to dispel claims that she is missing.
Earlier today, in a whirlwind series of tweets, Abihail, a 21-year-old model, denied that she had ever been missing.
"I'm not missing. They are lying," she tweeted
This evening, the Jamaican media reported that Abihail was missing since Saturday, October 9, and that the Jamaica Constabulary Force was seeking the help of the public to find Abihail, who is of a West Meade, Belgrade Heights address in Kingston 19.
There was further intrigue when Abihail also said that her sister Jodian had joined forces with Buju to report her missing, as they 'did not want her alive'.
"My sister Jodian and my dad are doing this because I proved that he abused me. and has been abusive- not only to me but everyone around him and them. They are doing this to trick you all because they are trying to kill me," she ranted.
She openly mocked the idea that she could have been missing for any extended length of time.
"How can I, my daddy's 'princess' be missing and he is sooo nonchalant about it. not one post. come on," she added.
The missing report came in the wake of a series of photographs which were posted on her Instagram account accusing her father of physically abusing her. The pictures showed scratches below her neck.
Earlier today, one of Buju's sons, the singer Jahazeil posted on Twitter that it was a 'family feud'.
"Please I'm not apart of the family feud. I separate myself from everyone and everything because I'm doing music and it's going to affect me and my career I don't know what to say…," he tweeted.
She also released screenshots of conversations with her siblings alleging further abuse.