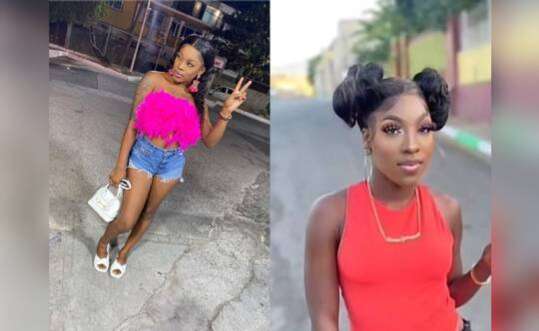 People, look how the man dem kill the two pretty gal dem from West Street and Law Street. The two gal dem de pon dem way fi do dem makeup when unknown vehicle pull up and dash dem weh.
The two girls were were victims of a triple murder. They were shot and killed on Upper King Street in the vicinity of Heroes Circle in Kingston on Thursday evening. They have been identified as 21-year-old Tattiana Brown of West Street, and 22-year-old Deanna Green of Law Street in the parish. The third person is 37-year-old Devroy Peart of Mitchell Drive in Portmore, St Catherine.
Reports from the Central Police are that about 10:40 pm, the deceased were travelling in a Honda Civic motorcar when they were intercepted by men in another vehicle. It is believed that they were trailed by unknown assailants.
As the women attempted to exit the Honda Civic, gunmen alighted from the other vehicle and opened gunfire hitting all three occupants of the vehicle with bullets.
The police were summoned and all three people were seen with multiple gunshot wounds.
They were taken to hospital where they were pronounced dead.
Investigations are ongoing.