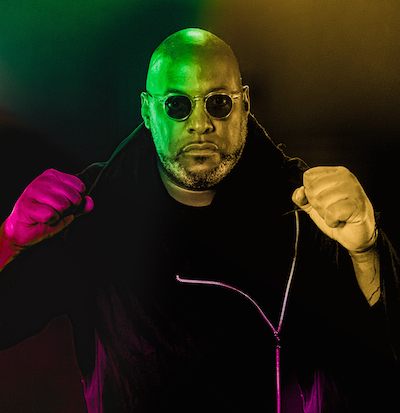 On his new album, Power of the Trinity… A Slight Return, producer-singer-songwriter-guitarist Tomás Doncker has created a new genre-bending sound called 'Global Soul.' It's a musical callaloo that brings reggae, African music, funk, rock, R & B and soul together in one savory, spicy and delicious groove. The title, a tongue-in-cheek nod to one of Jimi Hendrix's most popular songs, "Voodoo Child (Slight Return)," is a subtle self-reflection on Doncker's rock and roll roots.
"This is the third and final installment of the Power Of The Trinity series (the first two being the original album, and the theatrical presentation at NYC SummerStage), and I came up with the title to give the project a certain level of Rock & Roll edge. We absolutely did not want it to be perceived as just another World Music album. It is it's own thing. It is Global Soul," he explains. The album is a stunning cross-pollination of hypnotic African rhythms and American Soul.
"It's inspired by the positive spirit of global brotherhood and humanity drawn from the teachings of His Imperial Majesty Haile Selassie in the 1940s and '50s, and continued by Martin Luther King and Malcom X in the '60s. The record's timeless grooves are a vibrant musical celebration with an uplifting and unifying message that has more resonance with each passing day," Doncker relates.
Power of the Trinity… A Slight Return features an international cast of all-stars including BBC Award winner Mahmoud Ahmed, Grammy Award winning producer Bill Laswell, Selam Woldermariam (regarded as the Ethiopian Jimi Hendrix), African Soul legend Gigi, Nhatty Man, Joseph Bowie (Defunkt) and Josh David Barrett (lead singer of The Wailers).
The project, which will be released worldwide on all digital platforms July 23rd on True Groove Records, was conceived and produced by Tomás Doncker and James Dellatacoma. The release not only marks the beginning of the celebration of the label's 10th Anniversary, but July 23rd is also the birthday of H.I.M. Haile Selasie.
Doncker first came to prominence as a guitarist, and was a key player in New York's highly influential "No Wave" scene of the early 1980s. In the ensuing decades, he's gained acclaim as a respected producer, songwriter and musical innovator on four continents and collaborated with an array of luminaries from Bootsy Collins to Yoko Ono to Madonna to M'shell Ndegeocello and, most recently, hip-hop pioneer, Rock & Roll Hall Of Fame inductee, and founding member of the legendary Public Enemy, Keith Shocklee, just to name a few.
Beyond that, Doncker has produced hundreds of records, and is the founder and CEO of NYC's most prolific Black-owned independent record label, True Groove Records.
Please check out Spotify:
https://open.spotify.com/album/0EyWOfqLXZRvWAsnRP1yUv
Listen to the song on Soundcloud:

https://soundcloud.com/truegrooveallstars/sets/tomas-doncker-the-global-soul-ensemble-power-of-the-trinitya-slight-return