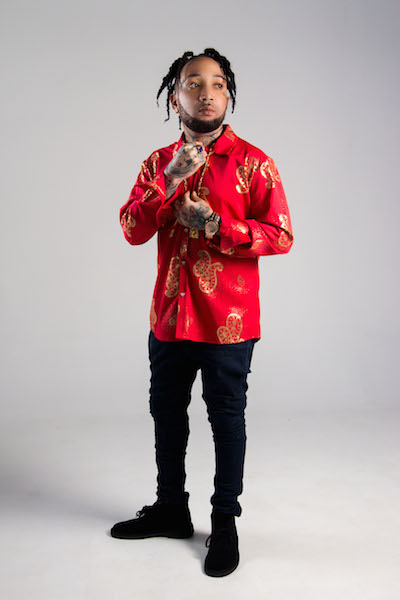 Dancehall singjay-songwriter-producer Taurus Ink uses his entire body as a canvass to express his innermost feelings, life philosophies and creative ideas.
"Each tattoo tells a story of Taurus Ink, it's not an obsession, it's a book," the artiste, whose real name is Michael Andre Taylor, said.
He said that his favourite tattoo is the creatively stencilled 'Laugh Now, Cry Later' on his upper chest.
"It speaks about my struggles in the music industry. The fake friends that comes along with it , the ones that never wanted to support me . This tattoo serves as a reminder and motivation," he said.
The singjay has been raising eyebrows with his new song, 'Talk Say Mi Hype' which has racked up over 70,000 views on YouTube since the release of the video one week ago. The single was officially released on all digital download platforms on June 28, 2020 on the Dappa Don Entertainment and Lex Dem Production labels.
"The feedback has been incredible so far, especially since the video was released, people love the energy of the 'Talk Say Mi Hype ' song and with the reopening of the entertainment sector, we can do some more aggressive marketing and promotion," he said.
Taurus Ink is also known for songs such as 'Laugh Now, Cry Later', which was officially released in January 2020 on the Up A Hill Management label, and 'Freestyle', the latter of which has over 200,000 views on YouTube.
Born in Kingston on November 2nd 1991, Taurus Ink grew up in Waterford in Portmore, St.Catherine, and attended St. Aloysius Primary where he joined the choir as the lead singer. Then at Mona High school, he began penning his own lyrics and writing complete songs.
"Music has always been a passion for me ever since, my life, my struggles and my environment inspire me to do music," he said.
Christened 'Taurus Ink' by his peers who were impressed by his vocal ability and his clever, witty rhymes, he grew in stature at his school.
"In high school on our lunch break, few of my classmates would normally used a pen to beat on the desktop to make a rhythm we all could
vibe to. Then I would just start freestyle anything that would come to mind on the spot and they loved it, I was the most lyrical out of them all.
The fact that I'm so lyrical, the only thing they could compare my lyrics with is a Taurus , which is a lethal weapon," he said.
He quickly carved out a reputation in the music business for his futuristic flows, ice cube clear sound and witty rhymes. He is an avid songwriter, dedicating many hours towards honing his craft.
"Sometimes spontaneously things flow just at once but other times it is like an iterative process doing improvements. It's like a game playing combining thoughts, motivation, information, feelings, experience and different ways of expressing it," he said.
A whiz at Technical Drawing, he wanted to become an architect back then in high school but music now holds centrestage.
"Architecture is one of those 'what if' fields but music is my first love. My musical style is versatile and unique. I don't want to limit myself by categorizing my music to a specific genre because I can basically write to anything.