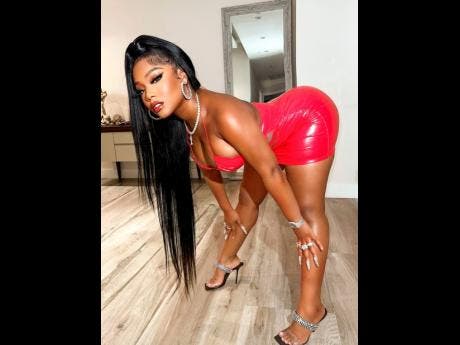 Newcomer Starr Dawkinz is getting a lot of flak online for a line in her song, Sponsor, where she alludes to Vybz Kartel tasting her goodies.
She appears to be flirting with the ire of Gaza fans when she suggests that Kartel go down on her. She deejays: 'Kartel mi dun know yu case, before yu dead, come gimme fat pum pum a taste.
Starr Dawkins explained that the idea for the song came after rapper Yung Miami of the duo City Girls dropped a song called RapFreaks. She also noted that Nicki Minaj did a similar single some years ago.
She has a couple of titillating lines, for instance, when she deejay-raps: "Airplane did crash wid the scoke so Skilibeng have the money fi put it inna mi throat."
She makes a les reference with regard to Shenseea in the line: "Better mi link Shenseea mek she spit pon the clit like Bea'.