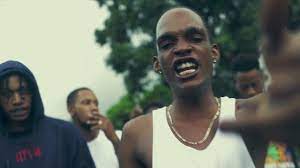 Dancehall entertainer Skeng had his bail extended after making an appearance at the Kingston and St. Andrew Parish Court last week. Skeng, given name Kevon Douglas, is scheduled to return to court on Friday, November 7, 2022.
The attorney representing the entertainer and co-accused, Christopher Townsend, noted when the matter was raised, that security footage from the airport was incomplete and thus requested a further mention date.
Skeng was involved in an altercation at the Norman Manley International Airport with a port security staff member. The altercation was a result of a vat of bleaching cream in Skeng's luggage. His companions at the time (and co-accused) Shaquille Kelly and Cara Wilson also received extended bails.