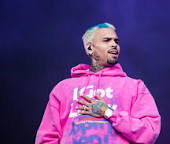 The website Dancehall Mag has reported that Greensleeves Publishing Ltd has reached a settlement to end the copyright infringement lawsuit it filed against Chris Brown and his label Sony Music Entertainment.
The lawsuit alleged that Brown's song Privacy (2017) intentionally ripped off lyrics and rhythms from Red Rat's song Tight Up Skit (1997). Greensleeves, which was acquired by VP Records in 2008, had sought over $1,500,000 USD in damages, profits, and interest in the original complaint.
In a letter to the court, filed on September 8, Greensleeves, Brown and Sony advised Judge Robert W. Lehrburger that they "have reached a settlement in principle, which fully resolves the matter."
The lawsuit was filed in a New York District Court in July 2021,
Details of the settlement agreement, including financial terms, were not disclosed.
Judge Lehrburger has granted a period of 45 days for the three parties to finalize the settlement's paperwork, the court records show.