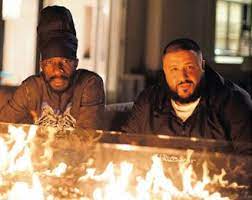 Sizzla Kalonji returned to his fire-burning ways by personally demolishing two Billboard plaques with DJ Khaled's Grammy-winning albums, Grateful and Father of Asahd.
"Babies are innocent," Sizzla said as he tore a photo of DJ Khaled's son, Asahd, from the plaque certifying double platinum sales of the rapper's 'Grateful' album, and placed it carefully on another wall.
Rastas chanted 'Holy Emmanuel I, King Selassie I' while the Nah Apologize deejay did a personal wrecking job on the plaque.
"Not even mi name mi caan see pon this," Sizzla grumbled.
Sizzla contributed a verse on the 'I'm So Grateful' single on the album. Grateful is Khaled's highest career first week sales to date. It debuted at number one on the US Billboard 200, with 149,000 album-equivalent units, of which 50,000 were pure album sales.
"Grateful with no gratitude…a whole heap a years Dada ah buss Khaled," one of the artiste's followers said.
He also destroyed another plaque for the platinum album, Father of Ashad. The 15-track project featured Jamaican superstars Buju Banton, Sizzla Kalonji and Mavado who teamed up with rapper 070 Shake for 'Holy Mountain'. The Solid As a Rock artiste removed a photo of Asahd and placed it beside the other photo of Khaled's son he had emancipated earlier.
Then Sizzla created a pyre, doused it with inflammable liquid and torched it.
"Yu insult the deejay Khaled" a man is heard saying off camera.
Dj Khaled's single, These Streets Know My Name featured Skillibeng, Buju Banton, Capleton, Bounty Killer & Sizzla, while another track, I'm So Grateful features Sizzla alone.
Last year, the "I'm The One" producer had been spotted all around Jamaica, connecting with fans and spending a lot of time with Buju Banton, Sizzla, Capleton, and Bounty Killer.