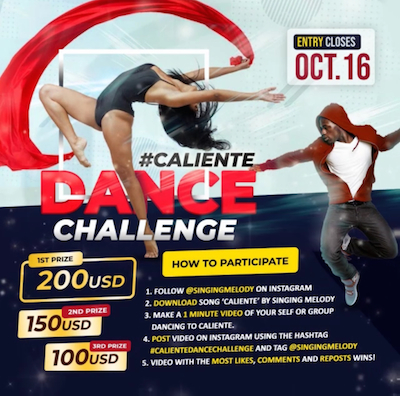 Reggae singer Singing Melody launched a dance competition for a single, 'Caliente' from his upcoming album, 'The Next Chapter'.
The dance contest kicked off on September 16th and will run until October 16th.
The top prizes in the contest will be based on who generates the most likes for their dance videos over the four week period.

1st Place 200 USD
2nd Place 150 USD
3rd Place 100 USD
    (Rules For Competition)
The person with the most likes wins (No Auto Likes) if any video is audit and auto likes is found, that person will be disqualified and video deleted.
To be qualified you must follow Singing Melody IG page @singingmelody, when posting your video used the hash tags #singingmelody #TheNextChapterAlbum #calientedancechallenge and tag @singingmelody , @whitterthelegend @YourFriendInMusic & @tuffgongworldwide