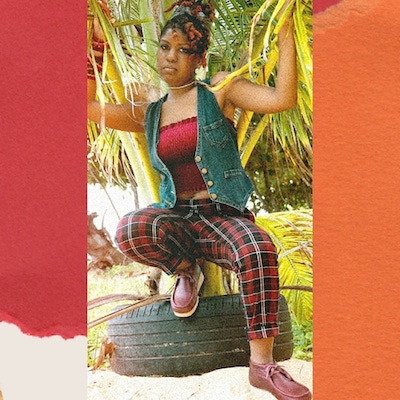 Jamaica is considered a hard but beautiful country. One rich in culture and diversity. Our entertainers have captured the hearts and minds of the global community whether its Bob Marley, Dennis Brown, Nadine Sutherland, Dianna King.
We have always found a way to make the music and sound affects and impact the globe. This says a lot about a place that only has two million people. One thing is for sure we are a global culture. We take our African roots and its clearly mixed with world sounds and beats. Which brings me back to a track I've just listened. There is a young lady by the name of Princess Saje who is doing just that. She fuses all of world music to create her sound. Daughter of Dancehall star Squidly Ranks she is poised to carry on the mantle and tradition.
She's a singer based between Jamaica and Queens, New York. She is a true student of the game and has been honing her talents for a few years now and is clearly ready to take it to the next level.
Her latest single "7Years" is out now on all platforms. Her style and melody on this track is reminiscent of hits made through the 80's and 90's. That throwback feel with a melodic 2020 touch. The song relates to women and the pain they go through in relationships that aren't very fruitful. Their feelings are used and abused and she is having it no more. Something like an independence for women. Saje shows versatility on this track and the appreciation for that old school sound is very evident which we could say was well thought out by the production team.
When asked what is the big dream or end game? The artist replied in such a well assured and poised manner.
"I believe in purpose and destiny. My dream is that at the end of my road here in this life,I would have done all that was meant to do and beall that I could be. That my space in this world will be filled."
Lets keep an eye out for this upcoming star. Take a listen to 7 Years and share your views and thoughts about this project.