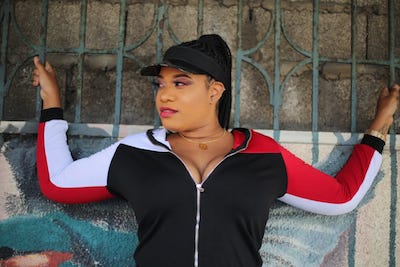 Upcoming female dancehall artiste Pinky Famous is opting for a name change after signing a new management deal with Lexzona MUZYK label.
The 20 year old who now goes by Tishana, says she was named after her father, Oneil Famous, a veteran entertainer who's affiliated with both Creation and Metro Media Sound Systems.
However, as she seeks to carve her own following in the entertainment industry, the entertainer says her name change was a professional decision.
"I was Pinky Famous from 11 years old and since I've started working with Lexzona , they decided that I needed a name change and that's when I opted to use my original name, Tishana".
Tishana is confident that the name change will positively impact her career.
"I'm a very versatile Artiste. I do all sorts of genres. I do Reggae, Dancehall and Gospel and so I believe that using my birth name suits me well".
Currently, Tishana released her latest single entitled 'Womanizer" produced by Lexzona MUZYK , a song that's geared towards females who've been used in relationships by their spouses.
"I know females who are loyal and are interested in their relationships but I think it's not right for a man to use women for sexual gains."