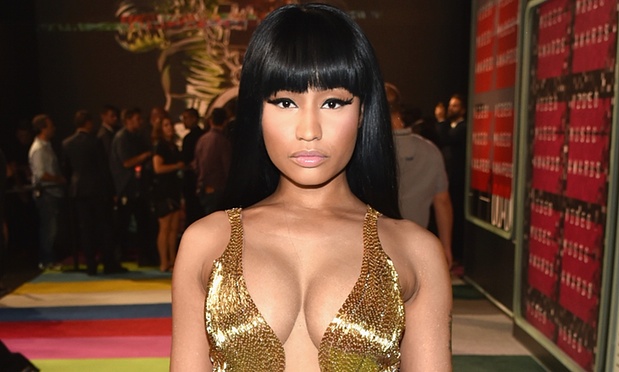 The 'Megatron' rapper was put on blast after recounting a story when she was almost arrested by Jamaican authorities for using expletives onstage in support of the #FreeASAP movement where fans and celebrities are calling for Swedish authorities to free rapper ASAP Rocky from police custody.
The Harlem rapper was arrested last week for his alleged involvement in a street brawl. He is now facing up to six years in prison if convicted for the crime.
Nicki Minaj's tweet read: "I performed in Jamaica before & when i got off the stage I was surrounded by police with guns drawn. They were ready 2 take me to jail b/c they said I forgot to bleep a couple curses," Minaj tweeted on Tuesday. "I could make one mistake & go to jail in a diff country where women have no rights. #FreeAsap"
Most Jamaicans feel that her tweet is a non sequitur, as there is a lack of a logical connection between the two arguments. The rapper's tweet is comparing Jamaica to Saudi Arabia's human rights where women are notoriously treated as second class citizens. But Jamaica is perhaps the polar opposite of the Middle Eastern state as Jamaica has not only had a female Prime Minister, but as of this year, with victory of MP for East Portland Ann-Marie Vaz, Jamaica boasts no fewer than 12 women in the House of Representatives.
Jamaicans quickly leaped to the defence of their homeland.
One user retorted: "This doesn't make any sense. After the Sumfest performance in 2011 where you were fined $10 USD for using expletives on stage, you tweeted "I had the time of my life at Reggae Sumfest… Jamaica I fell in love tonight." Please do not compare Jamaica to Saudi Arabia."
Yet another gave her harsh fact-check : "Nicki wasn't even arrested, she got a summons… and she never even went to Court, she was pleaded in absentia… and fined $1,000 Jamaican Dollarz … how is this equivalent to ASAP's situation???!!"
Another user, @oscargenius28, suggested: "When you perform as an artist in jamaica and cursed certain words you pay a small fee that's the law ! Police in jamaica and Trinidad guns are always out since they carry assault rifles ! Don't make it seem like anything else thank you 🙏🏾!"
A female user also commented: "As a Jamaican woman I would love for you to explain how we have no rights here?" with GIF with a woman waiting sarcastically for an answer to an indefensible position.
It was a major gaffe for someone who has strong Caribbean roots as before she moved to New York City, Minaj lived in Trinidad and Tobago where she was born to Trinidadian parents.
Nicki, who has professed love for Jamaica, responded to the backlash: "Ummm for the ppl in the back, I wasn't saying Jamaica doesn't have women's rights. I gave an example of what happened in JA to explain how easy it would be to do one thing wrong in Saudia Arabia b/c I'm not aware of every single rule & be locked up. Everyone knows I love JA. STFU"