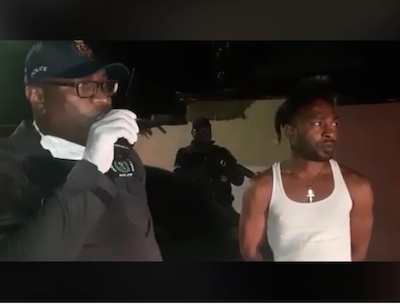 A young man, Dayne Mitchell, who openly flouted the curfew instituted by Prime Minister Andrew Holness in an angry expletive-laden tirade recorded on his phone was one of ten people charged with breaches of the Disaster Risk Management (Enforcement Measures) (No 2) (Amendment) (No 2) Order, 2020.
Mitchell, 37, of a Penso Street, Kingston address was yesterday in a viral social media video stating his refusal to comply with the curfew order.
In the video which went viral on social media, the man openly flouted the enforcement measures order, and dissed law enforcement officials and the Prime Minister of Jamaica.
"Real unruly pickney, we out ya, big pussy police, Andrew Holness, go suck yu madda, yu caan do we nutten. We out ya and we nah go in, see it de, live mi ah mek sure , we out ya, we nah go in!" the man said in a video posted to social media.
He was arrested a few hours later by the cops. He is believed to be a resident of Trench Town. He is the grandson of a reputed late 1970s area leader don from Tivoli Gardens.
The all-island curfew announced by the government on Monday took effect at 8 p.m. Wednesday night and will continue to 6 a.m. on Saturday.
The Jamaica Constabulary Force has said it is ready to enforce the curfew, which will restrict nightly movement for seven days, ending on April 8.
The others charged are:
Maurice Dunham of White Hall, Westmoreland,
Cecelia Palmer of Sandy Bay, Hanover,
Okeave McIntosh of Central, Lucea, Hanover,
Shane Thompson of Prosper Road, Lucea, Hanover,
Elvis Jones of Sandy Bay, Hanover,
Ryan Mckoy of Mount Peace, Hanover,
Denton McIntosh of Malcolm Heights, Lucea, Hanover,
Jordane Fletcher of Rejoin, Hanover, and
Elvis Clarke of Kingsvale, Hanover.
The police also said scores of people were warned for prosecution and cooperated, and no homeless individuals were arrested anywhere in the country.