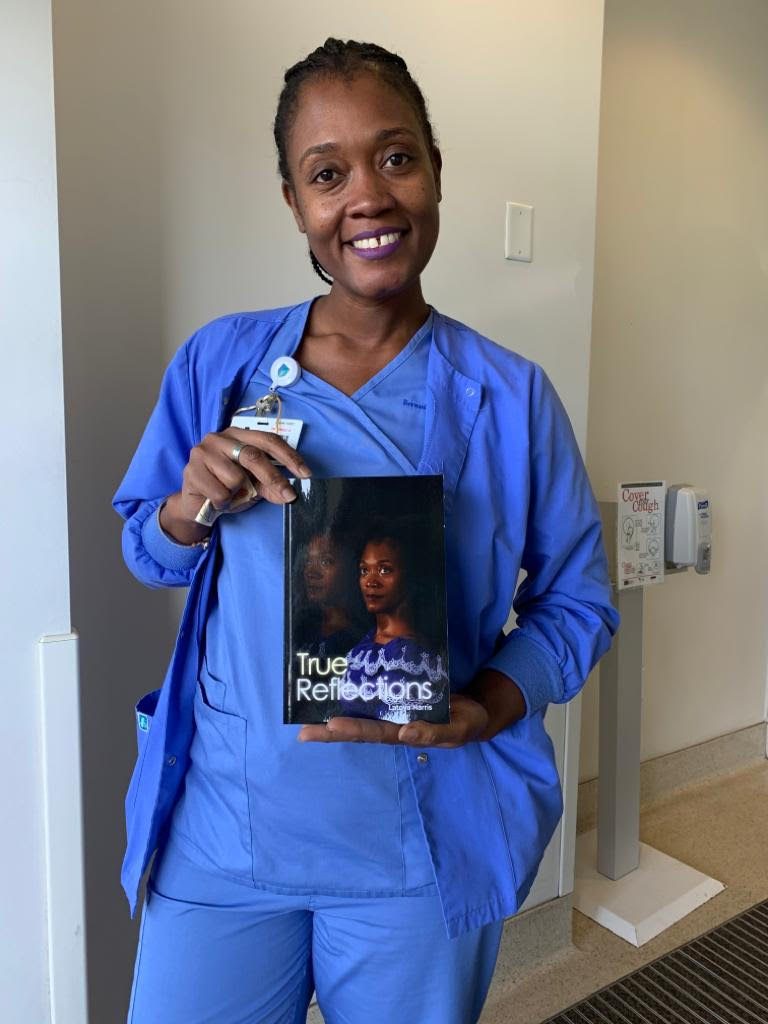 It's been a long, strange journey for debut novelist Latoya Harris who is promoting the novel, 'True Reflections'.
She is the most unlikely of authors, having failed C.X.C English as a teenager, and having failed the preliminary English course at the University of the West Indies four times. She worked meticulously on her craft and now she is a published author.
"I love to write, most times I express myself through writing. I even write poems. Even though I love to write, I have encountered challenges in English Language. Even while at UWI I failed the preliminary English course(UC010) four times but it was a blessing because God used it to prepare me and I even became a better person in the process because it humbled me," she said.
Harris currently resides and works in Bermuda where she is a certified nephrology nurse at the King Edward V11 Memorial Hospital with the Bermuda Hospital Board. She was inspired to write the novel after a church service on UWI campus a few years ago when a missionary from the United States of America told her that "the Lord is waking you up to write".
"I believed that prophecy because the young lady didn't know me. That prophecy encourages me even until today. So I continue to write and at times I ask my close friends to critique it and make the necessary corrections, a lot of people have helped me," she said.
Harris had a tough time growing up. Born at the Victoria Jubilee Hospital in Kingston, she grew up in Hannah Town but moved to Portmore when she was 8 years old when she moved to live in Edgewater with her grandmother. She was the only daughter of Joan Campbell, who worked as a street sweeper in Hannah Town.
She attended St Anne's Infant school and Chetolah Park Primary, then went to Waterford Comprehensive High School.
"My childhood dream was always to become a registered nurse, even from the tender age of 4. Just like any other dreams and goals, I encountered many challenges and obstacles before it became a reality," she said.
She failed Mathematics and English Language in C.X.C in grade 11, and was forced to take the exams again while working at a syrup company. She later applied to become a registered nurse at three nursing schools in Kingston but all three rejected her application. She was at the lowest point in her life and the black waves of depression threatened to swallow her whole. She questioned God.
"Even at one point I became sick and had to do a minor surgery. Even though I was not a baptized Christian, at one point I broke down and started yelling at God. It was too much for me," she said.
Then her luck changed. After doing the surgery, she received a letter inviting her to accept an offer to pursue a Bachelor Degree in Nursing at the University of the West Indies, Mona. She resigned from her job in a leap of faith, not even knowing how she would pay her tuition.
"Later in my journey, I realized it was God orchestrating my life and it was simply not his timing. God strategically placed the right people in my life to help me and he worked miracles in my life," she said.
During her second year of study, she got baptized at Emmanuel Apostolic Church in Portmore. She worked at a medical facility in Kingston before transitioning to the Kingston Public Hospital in October 2008 after becoming a RN, where she stayed until she resigned in March, 2018.
"It was a blessing working at the Kingston Public Hospital because that was my childhood dream and by extension, serving the people of the community I grew up," she said.
She wrote the 'True Reflections' novel while in Jamaica and since relocating to Bermuda, she got it published in order to chronicle her pilgrimage and show how God has worked miracles in her life.
"True Reflections reflect promises that God gave to me while in the valley of preparation in becoming the woman I am today. It also expounds scriptures and it is an eye opener to deep truths and wisdom. There is also a sense of hope as you journey from the beginning until the very end," Ms. Harris said.
She will be hosting a book launch on December 14th, 2019 in Jamaica at Kingston 10 Sports Bar and Grill.
Presently, 'True Reflections' is available on Amazon, the book orders department at dorrordr@dorrancepublishing.com and also available through Ingram, one of the world's main book distributors.