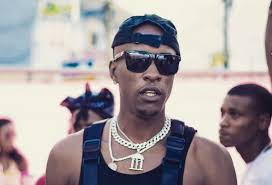 Popular dancehall artiste Laden, whose real name is Okeefe Aarons, will spend the weekend in a lock up in St. Elizabeth. He will head to the Santa Cruz RM court on Monday, November 2 to face charges of illegal possession of a firearm and ammunition.
Two other men, one of whom, is a minor, and who were reportedly in the company of the artiste, will face similar charges.
The other man has been identified as 21-year-old Saaion Ebanks a labourer of Nembhard Town in St. Elizabeth.
The three men arrested on Wednesday night after a firearm was ditched along a roadside in St Elizabeth when the men were approached by a police car on patrol.
Senior Superintendent Stephanie Lindsay, head of the Constabulary Communications Unit, confirmed the incident.
She revealed that a black Mercedes Benz in which the entertainer was reportedly travelling with two other occupants was signalled to stop by law enforcers in Cheapside, St Elizabeth.
Reports from the Black River Police are that the incident happened at about 10:40 p.m. The driver initially complied but sped off when the police approached. The vehicle was subsequently intercepted and the occupants searched.
The police returned to the area where the object was thrown and retrieved a Hi-point 9mm pistol with a magazine containing one 9mm round of ammunition.
Laden rose to fame as a Digicel Rising Star top ten finalist under the monicker, 'Jim Laden' and is known for songs like Time to Shine, Feelings too Heavy and Never Lonely.