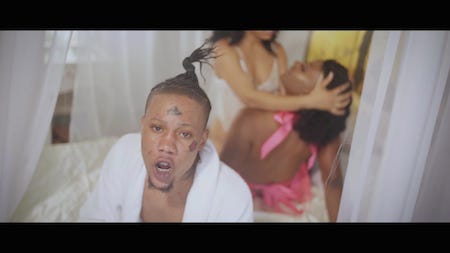 The Yeng boss is breaking into the Latin market with the racy 'Dry Eye' which has already taken over the local dancehall scene, racking up almost 5 million views on music video sharing platform, Youtube. The single is also available on all major download digital platforms such as Audiomack, Spotify and others.
The 'Dry Eye' song, released on a bouncy world fusion beat produced by Boogie Down Records and Nigel Irons of Iyon Lion Records. The track first premiered on Intence's 'IntenceVEVO' YouTube channel a few months ago and fans have been blasting it on repeat. But now the song is set to blast off into a new stratosphere, making major inroads in the lucrative Latin American market.
"Intence is one of the most marketable dancehall artistes to have emerged out of Jamaica in the past year. By all indications, the song has crossed over into the Latin market and is doing well in clubs and radio stations, so this is a positive move. The song can only get bigger for Intence and for Boogie Down Records," Winston Newman, chief executive officer of Boogie Down Records, said.
The risque video is directed by Marvis Irving of the Caribbean Gold Group, who also teamed up with representatives of Boogie Down Records, to conceptualize the narrative and script for the video.
The artiste, whose real name is Tashawn George Gabbidon, not only has one of the most unique images in dancehall today, he possesses a brilliant high-pitched delivery that is popular among teens. He broke through to stardom with last year's street anthem, 'Go Hard' and has steadily amassed fans in a meteoric rise to the top of the dancehall game.
However, this single, 'Dry Eye' is generating a major buzz in the non-traditional dancehall markets such as Latin America, who have always been genuinely appreciative of classic Jamaican music.
Over the years, Jamaican artistes have made their mark in the Latin American market. Artistes who have made their mark on the scene include Mr. Vegas with 'Heads High', Cutty Ranks who lent his talent to El Chombo's huge viral hit 'Damé Tu Cosita' in 2018, and Sean Paul who has been nominated alongside DJ Snake, Drake and Snow, for the Favorite Crossover Artist award for the 2019 Latin American Music Awards (LATINAMAS).
"Intence is going to be an international star because of his image and his flavour, and Latin people appreciate real music, so we feel 'Dry Eye' will be the first of many of his songs to create a platform in that part of the world, the other artistes on the rhythm are also doing great numbers," Newman said.
Other artistes with singles on the rhythm include Jamaican singjay Kanairy and the Argentine artiste Fidel Nadal.

In the meantime, the 'Dry Eye' single has become a firm fan-favourite as it gives a no-holds-barred peak into a highly charged encounter with a sexually adventurous woman.
"This song is about what my experience in life is, the modern day reality, yuh seet," Intence said.
On the hook, Intence deejays: Nothing she no hide dawg/bring her friend come give me ya/so she dry eye, so she dry eye dawg/so she dry eye/She say video everything she do last night/nothing she no like man wah tell lie.
The video has got the thumbs-up from his legion of fans online.