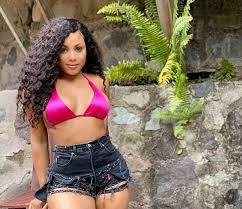 Dancehall artist Ishawna has signed an international record deal with New-York based Payday Records
Equal Rights singer shared photos of the signing with producer Skatta Burrell and Payday music executive Patrick Moxey, in Manhattan, New York earlier this week.
Payday Records was relaunched in 2017, 25 years after it was founded by Moxey in 1992.
In July 2015, Jamaican singer OMI's Cheerleader (Remix) became Ultra's first No. 1 on the Billboard Hot 100. Ultra later released his Gold-selling Me 4 U album.
"Signed, sealed and ready to deliver!!" she wrote in her caption. "I am super excited to announce that I just signed my first International Record Deal. 😫🙏🏽🙌🏽 Thank you Patrick Moxey @paydayrecords @ultrapublishing and the entire team. I'm so grateful to have you apart of my journey. ☺️🙌🏽 Thank you @skattaburrell for always believing in me, I'm so happy to share this moment with you. 🥹💕"