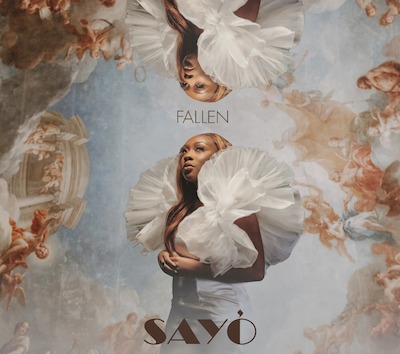 London-based British-Nigerian songstress Sayo Popoola a.k.a Sayò is pumped about the response to her popular single, 'Fallen'!
"The response has been phenomenal thus far for 'Fallen', my fans are loving the direction my career is going! My music is a mix of Afro beats, Pop, Soul and some Afro Reggae, so I have cultivated an eclectic international audience for my unique sound," Sayò stated in a recent interview.
The talented singer is now turning her attention towards her latest single, an Afro-Reggae infusion dubbed 'For Your Love'. A big fan of reggae music, Sayò is seeking to get an established Jamaican act on the remix, to break it into new markets.
"I don't have a particular favorite reggae song but I grew up listening to some Bob Marley, Sean Paul, Vybz Kartel, Popcan and many more," she said.
Sayò's most successful single to date is 'Confused' which generated thousands of streams online! Sayò's album is debuting later this year, which is quite impressive for a woman who had submerged herself into life-sucking studies, graduating from Newcastle University with a Bachelor's degree in Biomedical Sciences;then later realizing that music was her true calling.
Referring to her career change Sayò stated, "The world is full of people who have switched their career successfully and are doing something that satisfies their soul and are proud of it. I am fortunate to state that I am now one of those people".
Sayò was born in London on May 20,1994, of Nigerian descent. She has been fond of music since her early-adolescent years. Sayò's amazing vocals, mixed with seamless transitions from one tune to another made her a potential child star. She wanted to spend all of her time practicing music, which she seldom got to do as Sayò's family was highly-qualified.
"Every other relative was either a doctor, an engineer or was engaged in another esteemed profession. As a child, I wanted to do music but I never got the time. Building a career in the music industry was not deemed as a respectful thing to do. So, I decided to study medicine. Now that I am an adult doing music, my family has been really supportive of my music journey so far,", she stated.
During her years studying at the university, music was her escape and helped her cope with the overwhelming pressure of her studies. After she completed her degree, she enrolled herself in the SingerCise UK company to practice her vocals and sharpen her songwriting skills! Subsequently, in 2018, she got her first big break with a feature on the track 'Ride' by Samosong.
In 2019, she released her first single 'Confused' which won her over critical reception. Soon after, Sayò released her second single, 'Waiting', which awarded her even greater recognition and appreciation.
Today, Sayò has a growing, loyal fanbase worldwide, with an emphasis in the USA, UK, Nigeria, and Ghana.
Sayò is also associated with Thy Kingdom Records, LLC which is helping her to finetune a new style of Afro music. On her newfound success, she stated "I am very excited and sometimes a bit joyfully overwhelmed about where my career is heading,"