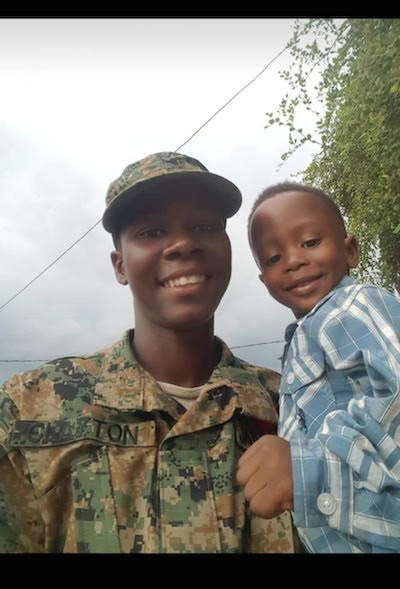 The scourge of domestic violence continues to haunt Jamaicans as today's double-murder-suicide in St. Thomas is believed to be a tragedy caused by jealousy and rage.
One876 understands that a man killed his girlfriend, who is a member of the Jamaica Defence Force, and his two year old son and then set the bodies on fire. The man then killed himself by ingesting a poisonous substance. ALL THREE BODIES WERE FOUND BURNT AT BEACH ROAD, PORT MORANT, ST. THOMAS.

The CCN confirmed the deaths and that all three are members of one family.
Police reports are that on Saturday, June 06, 2020 about 3:30 pm a Brown 2013, Nissan Latio motorcar registered 3185 JL was found abandoned in the Pear River community (along the roadway between Pear Tree River and Bowden).
Information is that on Saturday, June 06, 2020 about 10:00 am, a member of the public rented the said motorcar to Kimani Ayusah TAYLOR, 28 years old, a security guard employed to Portland Municipal Corporation. TAYLOR is from Cornwall Barracks District, Portland.
The rental arrangement was for two (2) days. About 12:30 pm, TAYLOR reportedly contacted MORGAN via telephone and stated he was in St. Thomas and had a little problem. He then terminated the call without expounding on the problem.
MORGAN reportedly made attempts to contact him by telephone which proved futile hence he utilized the electronic surveillance/tracking system where the motorcar was found at the about mentioned location.
Information gathered is that after renting the motorcar, TAYLOR reportedly picked up his two year old child( Tylor TAYLOR D.O.B. October 26, 2017) from his mother (that is the Kimani's mother). It is theorized that he later picked up his girlfriend, Tylor's mother (Lexton CLAYTON) at the Jamaica Defence Force (JDF) headquarters, Up Park Camp enroute to Bransburry District, Yallahs, St. Thomas where CLAYTON is from.
Information also is that the girlfriend is a recent graduate of the Jamaica Defence Force (JDF).
Preliminary search of the car unearthed nothing suspicious. However, a piece of rope (appears new) as well as a child car restraining seat were found inside the motorcar. It is to be noted that these were not in the motorcar when it was handed over to TAYLOR.
The Port Morant Police was alerted and the motorcar wrecked to the station. It is suggested that an extensive search of the area where the motorcar was found be carried out at the earliest possible time.
NB. calls made to the telephone numbers of TAYLOR and CLAYTON went unanswered.
Information gathered suggested that in recent weeks both TAYLOR and CLAYTON have had relationship issues.
Investigators are on the scene trying to figure out the sequence of events that led to this triple tragedy.