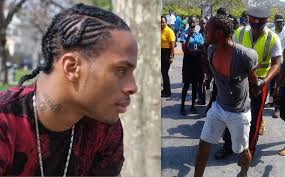 Dancehall artiste Dexta Daps will have another shot at securing his freedom when he appears in the Kingston and St Andrew Parish Court on Monday, April 20.
The artiste's lawyer, Peter Champagnie, filed a writ of habeas corpus on Tuesday but the the artiste remains incarcerated because the arresting officers were absent from the hearing.
"To be fair to them, the officers did not appear as a result of the fact that the service of the writ was, in a manner of speaking, short-served – because of the prolonged holiday period," Champagnie told Loop News.
It was brought to the court's attention that Dexta, given name Louis Grandison, was being detained pursuant to the state of public emergency that is in operation in Seaview Gardens, where he was picked up by a squadron of police officers.
Grandison was taken into police custody last Wednesday by detectives from the St Andrew South Police Division and the Major Investigations Division, for "questioning with regard to gang-related activities in the St Andrew South area".
Hailing from the Seaview Gardens community, Dexta Daps is known for songs including Morning Love, Chinese Jordan, Cheat On You, and Shabba Madda Pot.