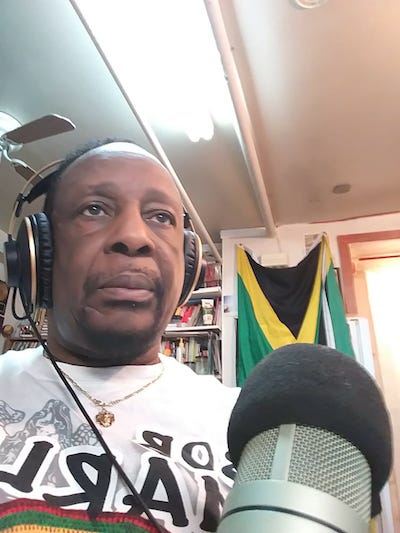 New York-based broadcaster Clive Hudson, dubbed the 'Reggae Master Blaster' by his listeners, has launched a new programme, 'Brooklyn Swing' on Tuneinradio and on the streaming platform Youtube which caters to members of the Caribbean diaspora based in New York.
"Presently, you can check me out on www.clivehudsonreggae.com, broadcasting 24/7. I am still promoting and establishing some of the best reggae out of Jamaica and the USA all over the world," he said.
TuneIn is an American audio streaming service delivering live news, radio, sports, music, and podcasts to over 60 million monthly active users.
The 'Brooklyn Swing' programme routinely broadcasts to 400,000 unique listeners on live web traffic on Tuneinradio over the course of a month in areas such as Japan, New Jersey, New York, the Caribbean, Europe and as far away as Beijing, China.
Hudson is one of the pioneers of radio, and the golden-voiced broadcaster helped to set the soundtrack for the lives of many Jamaicans and other Caribbean immigrants who grew up in New York city in the 1980s.
He established the 'Clive Hudson Reggae Affair' radio show on a radio station known as WHBI in 1977 that lasted until 1997 when the station was sold. He was most well known for his unique program format which included features like 'People's Forum' that were geared towards maximum audience participation.
"I had members of the audience calling in to the station singing songs and sharing positive poetries via way of the telephones,that also included inmates from some of the top prisons participating. In the People's Forum, the audience would call in and give their views on topics affecting the community," he said.
Hudson believes that the Caribbean community in the tri-state area owes a debt of gratitude to Gil Bailey and others.
"It was a tight-knit community, Pat and Gil Bailey, Earl Rootsman Chin, Safia Seivwright, Clinton Lindsay, who was helping some of the top reggae entertainers in Jamaica at the time come to the US and the late Vonnie McGowan," he said.
Gil Bailey was a legendary broadcaster on Caribbean radio for more than half a century with a large following of Caribbean-American New Yorkers. Bailey's voice was silenced in April when the octogenarian died.
"Gil was a giant who inspired us all, he was the "Godfather", and he will be sorely missed," Hudson said.
Hudson, through his talent show, championed reggae and dancehall music across the tri-state area starting December 1982 at a club in Brooklyn known as "The Wheel" located on Flatbush Avenue.
"The participants were backed by a band known as Donny Marshall and the Rhythm Dimension band featuring Papa Benjie, General Christie, Steff and Ranking Cliff (now known as Lincoln Prophet)," he said
In 1988, Hudson's growing popularity as an emcee won him a selection to host Japan Splash in Osaka, Japan on a show featuring Maxie Priest, Yellow Man, Leroy Sibbles, Lieutenant Stitchie, the Japanese band known as Ska Flames with Sly and Robbie.
After that, he hosted the first New York reggae award show at the Biltmore Ballroom held by Super Power World Enterprise Records featuring Super Cat, the late Frankie Paul and other artistes.
It was an exciting time for Caribbean culture in the late eighties and early 90s as Shabba Ranks helped to open the floodgates in 1991 and 1192 with two consecutive gold albums, 'As Raw As Ever" and 'Xtra Naked'. Others followed him into the charts: Snow, Buju Banton, Mad Cobra, Patra and Chaka Demus and Pliers.
The broadcasters of the 1980 to 1990s era made a big sacrifice to keep the portal open for emerging talent.
"It was a struggle to survive on WHBI 105.9fm that was geared for independent radio station producers which meant you had to pay for and maintain your on air time. If you could not pay for the time, you would be booted off, some people ended up losing their apartments by using their rent money to maintain the time, but we loved it, so we made the sacrifice," he said.
"There were advantages because as an independent producer, you could promote what you wanted as long as it fit within the FCC guidelines. At the other stations due to all the restrictions, there was only so much that you could do to promote and help your advertisers due to restrictions."
WHBI closed its doors and in 2004, Hudson started his internet radio show by joining up with live365.com and a station called Blogtalk Radio.
Listeners around the world you may contact clive hudson at 347-365-4991 email: clivehudson46@gmail.com chudsonmusic@msn.com