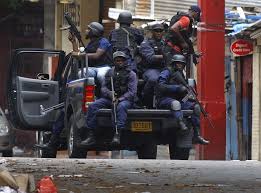 Monday morning. Two double murders. Police investigators were kept busy this morning as four persons were fatally shot in two separate cases of double murder on Monday morning.
Traffic was snarled along the McCooks Pen main road in St Catherine, where the bodies of a man and woman were found with gunshot wounds. Traffic was diverted into the eastbound lane to accommodate the investigation.
In St Catherine, residents reported hearing explosions about 3:00 a.m. The bodies of the deceased were later discovered about 7:00 a.m. in the area's bushy terrain.
In St Andrew, two bodies of two females were found, one laying on the side of the roadway and the other in a car, with several gunshot wounds.
They were found the entrance of a facility belonging to the National Solid Waste Management Authority (NSWMA), a few metres from a Wray & Nephew office.
It is believed that at least one of the females is an employee of the NSWMA.
The details of the killing are still unclear, however early reports say the attack occurred sometime after 5:00 a.m. That is the usual time for the employees to arrive at work.