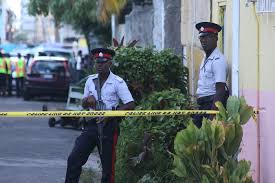 Revenge is a dish best served cold. A man who was allegedly chopped by another exacted his own measure of revenge by allegedly shooting his attacker to death in Montego Bay, St. James, yesterday.
.
The incident took place at Queen's Drive, Barnett Street in Montego Bay. The deceased has been identified as 45 year old David Roye from the capital city
Reports reaching Loop News are that about 3:15 pm Roye and a man had a dispute which turned physical. Police said during the altercation, Roye used a machete to inflict a wound on the man.
The man reportedly left and later returned. A firearm was then used to shoot Roye multiple times. The suspect then made good his escape in a waiting motor car.
The police were alerted and the now-deceased was transported to the Cornwall Regional Hospital, where he was pronounced dead on arrival.
Efforts to locate the suspect have so far been unsuccessful, the police say.