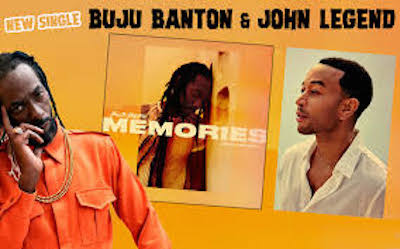 It's been over a decade since reggae king Buju Banton and R&B star John Legend collaborated on a song, and the Grammy winners have teamed up again for 'Memories' which has earned Buju Banton a spot on one of Billboard's major charts.
Memories, featuring John Legend, jumped from number 23 to 21 in its fourth week on the Adult R&B Songs chart.
This is the second collaboration between Banton and Legend. In 2008 Banton was featured on a reggae remix of Legend's hit single Can't Be My Lover, produced by Dwayne "Supa Dups" Chin-Quee.
Banton last charted on a major Billboard tally in 2007 when Driver A peaked at number 72 and 75 on Billboard's R&B/Hip-Hop Airplay and Hot R&B/Hip-Hop Songs charts, respectively.
'Memories' is the first single from Banton's forthcoming album Upside Down.
Buju's highly anticipated release will be his first full-length studio offering in a decade. The last project ONE876 saw from the reggae artist was 2010's Before the Dawn.
In March, we saw him connect with Tory Lanez for the remix of Buju's song "Trust," and in April, he linked with Dvsn and Ty Dolla Sign for Dvsn's new track "Dangerous City."