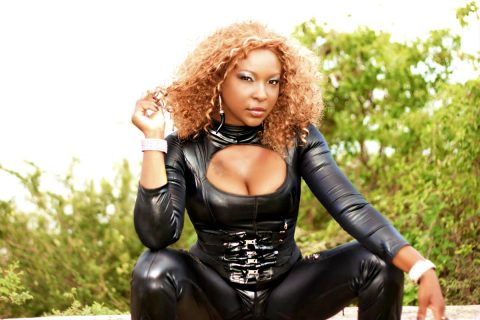 Ocho Rios-based reggae dancehall artiste Black Queen has criticised Spice for not helping or reaching out to her former mentor Ninjaman during his present incarceration on a murder charge.
"When I did a song with Boom Boom years ago, Spice gave me good encouragement, but yu see that ungrateful thing, yu need to look into yourself and check it. Check it and see if it inna yu," Black Queen said during a live session on Facebook
She then directed a verbal attack towards Spice who she labelled 'ungrateful'.
"Did you know that Ninja and me ah practically family? Did you know when yu (Spice) come fi meet Ninjaman and you were in the orange Prado, I was there with Ninjaman? When Beenie box yu, right, is Ninja yu come fah. Ninja bring yu career girl, Ninja bring yu career. Hm tek yu pon some stage, mi nah say him no take me on show, Ninja carry me go GT and other shows, but him go all out for you. Ninjaman de a jail, and yu never look fi him yet. Me look for Ninja, Stacious look fI Ninja, Angel reach out to Ninjaman, One thing with angel, she like her little dress up, but Angel have a good heart, she no ungrateful and yu never, not even a happy birthday shout out to Ninja," Black Queen said.
She also questioned Spice's public and consistent loyalty to another incarcerated dancehall artiste, Vybz Kartel.
"Everything you say is Kartel Kartel, yes Kartel bring you to a dimension(in your career). If Kartel never have him hype, would you remember him? Just like how yu nuh memba Ninjaman. Don't forget where yu coming from, just check yourself. Sometime yu have to check yourself and look into yourself," she warned.
Black Queen also warned Shenseea and Jada Kingdom to avoid the older female artistes.
'If yu tink say a lie, oonu mek a sad mistake, Almighty God know, is a year of revelation, mek it reveal," she said.
Black Queen also shared her personal experience with personal animus, rumours of black magic and in-fighting among female artistes in the business.
"Years ago, I was doing Up and Live (on HYPE TV), and I saw Macka and Junie Ranks. Junie came over to me and she say 'boy queen, yu ting a gwaan, yu better be careful, mine dem obeah yu'. The people inna this business terrible, stay far from dem. Mi never believe inna dem something de. But there are people who 'fullheartedly' believe inna this thing here," she said.
Black Queen said she eventually became friends with Macka Diamond.
"The first shock of my life mi get, one day, mi and Macka ah go St. Elizabeth with Food Kartel, and usually mi drive, and we use one vehicle. People, at that time, Macka and Saw and whole ah dem was at war, and Saw called her, the phone ring and dem start argue on the phone bredda. And mi hear, Macka say to Saw that "memba say ah yu tell me fi mash up Queen Paula career and cut off the source of where her money ah come from to fund her career"," she told her viewers.
"When mi hear dem cuss and talk dem something de, in my head, mi ah say mi no waan de round dem people ya…is like she forget say me de there. Paula was her friend and mi start pree too. If ah so dem move wid dem friend. Queen Paula is a beautiful soul, but when it come to stage show, she have it, anything come cross dead. So mi tek weh miself and mi avoid dem call and one day, she say mi fi come church and fasting but she keep calling me. She say church and fasting and mi love God, mi say mi ah tek the chance. Then when we in the church, she confide in me say somebody do her something and somebody (reader man) tell her say is a black female artiste.. Why yu would tink say me inna dem something de?" Black Queen asked.
Black Queen is promoting her debut 'Black N Proud' EP which features several standout songs such as Black N Proud' which is a response to the negative connotations that some persons ascribe to the word 'black'. Other tracks include 'Thankful', and 'Nobody Knows My Pain', a tribute to Nicko Chromatic who passed away after losing his battle with kidney disease.