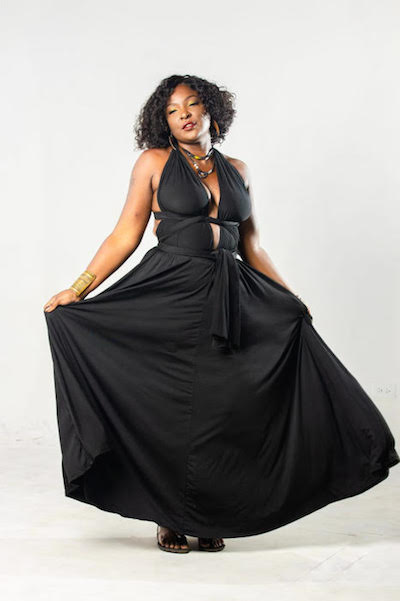 Reggae-dancehall songstress Black Queen is gearing up to release her first EP, a 7-track effort dubbed 'Black N Proud' which showcases her feel-good messages of love, hope and seeing beauty in oneself.
"It's a joy to be able to put out this EP, not everyone has the same journey, they see the glitter but not the pain to get this far, so this is a major milestone for me. This EP has a universal message of love, self-love and health which everyone can relate to," the artiste whose real name is Semonie Giles, said.
The EP will be released at a launch party on August 30th in Ocho Rios. The event will be live-streamed by IRIE FM, WAVEZ 96.3 FM and Linkage Radio, and the event will be promoted by Ammadothis Promotion.
Black Queen added that her EP is a labour of love, and chronicles her own spiritual journey.
"I want to tell my people to surround themselves with positive people. Believe in yourself even if no one else does. Uplift others, black people need to work on ourselves, love ourselves so we can respect each other, so we can elevate and uplift coming generations," Black Queen said.
Standout songs include 'Black and Proud' which is a response to the negative connotations that some persons ascribe to the word, 'black'.
"Growing up, some of my siblings would tease me and my brother about our dark skin spoiling the family. My experience is similar to that of many Jamaicans, this sort of bias comes from slavery and colonialism. We must change that narrative through her music, beauty is not the colour of one's eyes or skin but is what comes from within," she said.
Other songs include 'Thankful', an ardent reminder to give gratitude for the simple things that we often take for granted. Another excellent track, 'Nobody Knows My Pain', is a tribute to Nicko Chromatic who passed away after losing his battle with kidney disease.
"Health and spiritual wellness are big themes on the EP," she said.
Black Queen grew up in the inner city community of Waterhouse where she lived with her mom and siblings. Times were rough and she found solitude in singing. While in primary school she sang for her peers, developing confidence even while earning money that she could use on days when there was no lunch money.
She started modeling and was eventually introduced to the Ashe Group of Performing Arts. She got married soon after and started a family of her own.
She released the song 'You Say' which got some support but it was not until she did the dancehall track 'Up Ina Ya Jelly' that people started calling her for other gigs. However, she soon deviated from dancehall debauchery towards her true north, doing songs like 'Black and Proud' that showed her versatility and earned her a lot of respect.
"Don't judge someone by the colour of his skin, or the colour of his eyes but by the meditation of his heart," Black Queen said.