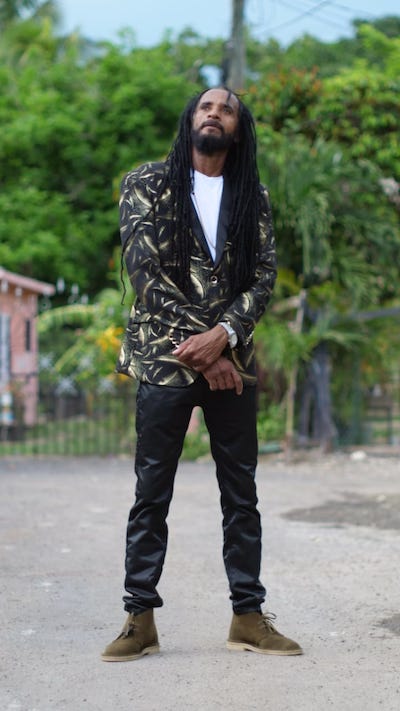 Roots-reggae artiste Alpha Rowen believes that he makes a compelling argument with his latest album, 'Dancehall Manners Book' that dancehall needs a rebirth and a realignment because of the proliferation of gun songs and slackness in the marketplace.

"This album is perpetually relevant in our society. The notion of having the wise being led by the fool should go through the window. Leaders were born to lead, we need them to step up and do something, that's what the album is about, urging action," Alpha Rowen said.

He is an advocate of a return to censorship in mainstream media.

"There's a law on the book that is not being enforced, which is incitement, these things are allowed for a particular reason and those artistes who have been poorly cultured have run into the trap. These are desperate times that call for desperate measures. People are allowed to say these things and become popular, the prophecy says there will be a time when people love evil more than good, this is that time. Measures must be put in place to curtail them, if that is censorship, then so be it," he said.

Alpha detailed a litany of songs that glorify violence, black magic, obeah and murder which now dominate the dancehall space.

"The artiste ah say dem guard up, dem have dem big gun and dem friend will use it on you. If those things become popular, what do you think will happen to that society? You can't blame the youths, if you make the artiste preach murder, and yu allow him to be seen as a great man, what do you expect? No gatekeepers are stopping that artiste from doing his evil work, this free market talk is a trick," Alpha Rowen said.

Rowen, a roots reggae singer, is promoting his 13 track dancehall album which consists of trap beats, original dancehall, mixed genre of Afro and Jamaican dancehall beats.

"There are classic dancehall songs like 'The Catwalk' specially authored for the fashion world, current and innovative lyrical with modern dancehall slangs, brand new topics from the regurgitated norm which has rendered dancehall stagnant and monotonous," he said.
The hard-hitting rhyme slinger believes that civility and common sense are exceedingly rare entities in the public sphere.
"The album comes with a physical manners book, titled 'The Headmaster's Edition', we need it because the manners-less people need to be taught, they need it," he said.
The 'Dancehall Manners Book' was released on November 20, 2020 and is being distributed by Zojak Worldwide which can be accessed on all digital download platforms.

Songs such as the sexy 'Love Potion', the fashion world-conscious 'The Catwalk' and the title track 'Dancehall Manners Book' show the different sides of a well-rounded artiste. Rowen also shows his 'rude bwoy' roots, taking on the whole fraternity, with the hard-hitting, tongue-twisting 'Badda Dan Yuh Artiste'.
But why is he so critical of the present state of dancehall?

"If folly suppresses wisdom, then we are lost. Certain dancehall songs use folly to suppress wisdom, the voice of fools is allowed to be too loud, drowning out the good sense of wisdom and logic. I am here to correct that," he said.

He pointed to the long list of dancehall artistes who have run afoul of the law in recent times. 

"They have fallen into the trap, they are pushing an agenda by hidden forces that want Jamaica to remain backward and violent and now they are paying the price," he said.

Dancehall entertainer Laden has been sentenced for gun possession for four years, while Tommy Lee Sparta is now facing a long prison sentence on a similar gun rap. Artistes like Ninjaman and Vybz Kartel are serving life sentences for murder. Other artistes, Munga Honorebel and Quada are facing a murder rap as well.

Rowen said that even though Vybz Kartel is the current kingpin of dancehall, 'The Teacha' owes his dominance to the Jamaican tendency to embrace aggression, criminality, blatant disrespect and vulgarity.
"I have no fear in saying that dancehall's most prolific star isn't talented, him just no have no manners, self-love nor discipline. Our society celebrates vulgarity and disrespect, and the rest is history," he said.

In the meantime, Rowen's lead single, 'Cookie Crumble', from the album, is currently enjoying a huge online buzz.
The song, which was produced by Earl Sterling, was released on the SMP Records imprint in 2019. Since its release, the song has enjoyed heavy rotation on several popular local radio stations, including RJR 94 FM and HITZ 92 FM.

Alpha Rowen is known for songs such as 'Chakka Chakka', 'Beat Dem and Teach Dem', and 'Murder'. He released his first album, 'The Teacher', on Jet Star, one of the largest distributors of reggae music in the UK, in 2001.