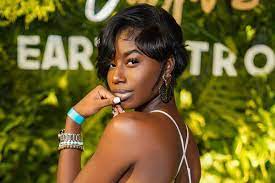 Abihail Myrie, Buju Banton's daughter, shocked Jamaicans today when she posted several photos of what appeared to be a baptismal ceremony at an undisclosed church.
"Today was the best day of my life. It has truly been an experience, one for the books! I'm happy that I was able to document it all. I've fought, learned, faced public humiliation, cried, got back up, listened and trusted God, all in the name of Christ. And I'm now I am home. It was rough. I wont lie. I lost a lot of friends and family along the way – some that truly came at a surprise," she said in a lengthy post online.
"But I had to lose. I couldn't go forward with them. I wouldn't be able to fulfill my purpose and share this testimony with you all. I've been my most vulnerable self, stripped of all my layers both physical and emotional in order to gain what has been so much more fulfilling. It was all worth it. I am better, stronger, much wiser and am able to proudly say that I am truly a child of God. And thank you to everyone who fought silently with me."
Several persons showered praised on the young model for her decision to enter the world of Christianity.
Myrie's brother Jahazeil, who she excoriated several times on Twitter over the last few weeks, was one of the first to voice his support. He wrote: "Fly high sister find your self now and go with God blood thicker than water remember that Bin Laden and Bush strive together now we are stronger @abihailmyrie".
One user tweeted: "SOOOO PROUD OF YOU. welcome to the family my family."
Another said: "Congratulations hon" while another posited: "best decision you could ever make".
Myrie's surprise baptism follows in the wake of a major brouhaha on social media last month triggered by the emergence of a missing persons report on mainstream media alleging that the 20 year-old model was missing.
Abihail Myrie, who is also sister to Jamaica Labour Party caretaker Jodian Myrie, and producer Markus Myrie, upped the ante when she alleged that she had been strangled and abused by a member of her family. Those abuse claims were never articulated to the police in the form of an official police report.
She also posted another photo with a sign that read simply 'Give God Thanks' posted on a lightpost with round green hills in the background.