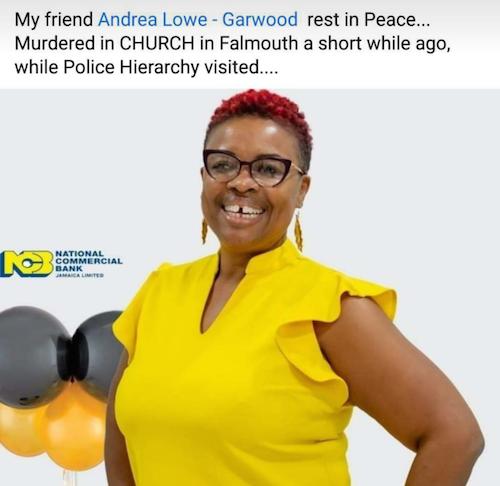 An NCB employee was shot and killed this morning when a gunman entered the Agape Christian Fellowship Church in Falmouth and fired several shots during the usual Sunday morning worship.
The woman has been identified as Mrs. Andrea Lowe-Garwood (DOB 27/05/1969) NCB Regional Credit Card Officer (Montego Bay office). She is a resident of Trelawny.
According to a worshipper, about 10:30 she heard explosions in the building and later saw a woman falling to the ground.
"We were in the church singing and I heard several explosions and saw a woman falling to the ground," she told one876.
The shooter has been described as being of a fair complexion, about 5 feet 10 inches tall, dressed in a red shirt.. He WAS NOT wearing COVID Mask.
Shooter escaped in a waiting white 2013 Toyota Allion motor car reg. # 0508 JG, left behind a cellphone that is now in possession of the police
The woman was taken to hospital where she was pronounced dead.
A strong police presence is now at the scene of the incident.