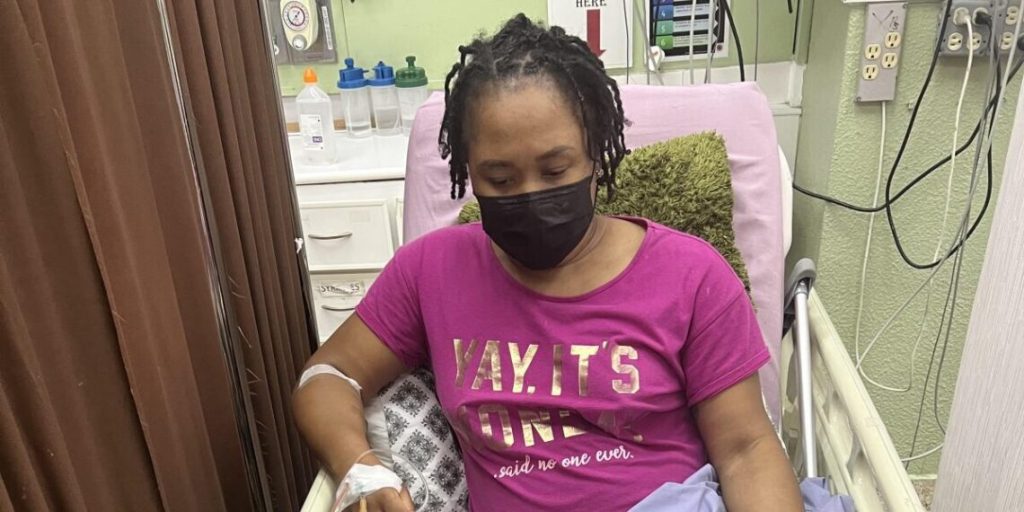 A Jamaican-born woman and her husband have raised US$19,000 out of a targeted US$25,000 to bankroll for a medical flight home to South Bay in California, United States, after the woman, a US navy veteran, was shot during a party held in Old Folly, Discovery Bay, St Ann on Boxing Day.
Christie Jones and his wife, Camille Carter-Jones, were on holiday in their homeland, Jamaica when tragedy struck just after midnight on Monday, December 27.
https://www.gofundme.com/f/its-a-miracle-shes-alive-bring-cam-home?qid=e9129858c4e726c988d9c31635dfa0dd
She was one of five persons shot in a  deadly shooting at an illegally held party in the community of  Old Folly in Discovery Bay. Camille was shot in the knee and thigh, fracturing her femur. She'll be discharged by Tuesday, but doctors told her she can't fly commercial and requires a medical flight, her husband told the media.
It's a miracle she's alive, Bring Cam home!
$19,274 USD raised of $25,000 goal
165 donationsShareDonate now61 people just donated

He and his wife have turned to crowdfunding website, GoFundMe, to raise between US$20,000 and US$25,000 for the medical flight.
Superintendent Dwight Powell, the chief of police for St. Ann, told the media that the shooting was triggered by a dispute among patrons about 12:20 a.m.

The deceased have been identified as 23-year-old Tamara Kelly and 21 year-old Rojae Linton, both of Discovery Bay. The shooter is still at large.
He recounted the horror of the incident.
"We just heard a loud sound. Bang, bang bang, bang, bang," Jones recounted " We were trying to escape. Everyone was trying to run towards where we are. Like a stampede. I literally froze, because I didn't know where the shots were coming from. When I look towards her, I saw her fall. Next thing I know, she screamed, 'I got shot. I got shot'."
Christie and Camille's brother carried the Navy veteran to their car, before rushing to the hospital.
The St Ann police are searching for the suspects behind the fatal shooting. Superintendent Powell said the promoter of  the event is under investigation and is likely to face charges.
Camille will remain in a cast for up to four months before doctors determine if she'll need knee replacement surgery.
"We were just trying to have a nice vacation. It just turned into a total nightmare," said Jones.
The medical flight will cost between $20,000 and $25,000.