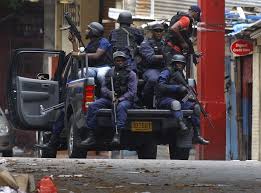 The police have confirmed that two men were killed in a drive-by shooting in Grants Pen, St. Andrew this afternoon.
Police have confirmed that several shots were fired in the area after 3 p.m.
The deceased men who were both of Grants Pen Avenue addresses have not been identified as yet.
Sources claimed that several shots were fired as armed gunmen from Odmond Lane and Grants Pen Avenue have been at odds.
Fleeing gummen abandoned a car on Queens and Chisholm Avenue in Richmond Park and were able to successfully elude the police.
Police sources say the deaths have nothing to do with the gang war associated with popular entertainer Jahshii.