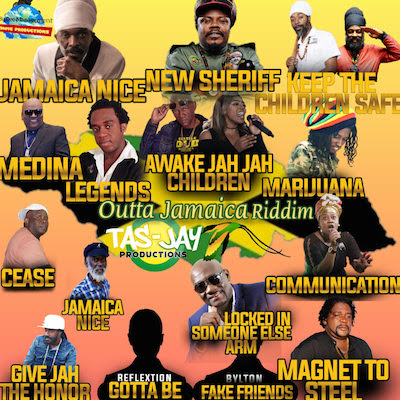 Imitation is the sincerest form of flattery so when producer Tasjay James Smith decided to remake the seminal live rhythm for Dennis Brown's 'Have You Ever Been In Love' for his  Outta Jamaica Riddim album, he knew he was on the right track. 

The 16-song compilation was released in May by Tasjay Productions, the Toronto, Canada-based company Smith has operated since 2003.
"I really love this riddim project and I know that reggae lovers all over the world are going to appreciate the level of musicianship that went into it…this is real rub a dub," Smith said.
The song is a real rub-a-dub gem which features heavyweight reggae superstars such as Anthony B ( Rock Steady), Luciano ( New Sheriff) and Little Hero (Legends) to record for Outta Jamaica Riddim. Smith brought in long-time collaborators Rad Dixon who did the conscious 'Keep The Children Safe', Horace Martin who recorded the revolutionary 'Awake Jah Jah Children' and the talented Patcha Blacks rounded out the project with  'Magnet to Steel'.
Other talents on the project include Amir, Tony Anthony, Jah Torch, Kimmy Gold, Desi Ranks, Bylton, Reflexion and Sancho.

The rhythm instrumentals have been tweaked by the creme de la creme of live instrument musicians in Jamaica. The original creators of the Dennis Brown 1981 hit, Sly and Robbie teamed up with Firehouse Crew's Paul "Wrong Move" Crossdale on keyboards and guitars and Delroy "Fatta" Pottinger as engineer to remake the project with a new spark. 
The Dennis Brown hit, 'Have You Ever Been in Love' was inspired by Lady Lady Lady, a big hit for American soul singer Barbara Acklin. 
Tasjay Productions is amping up the promotions for the project worldwide.
"There is a video shoot in the making, the songs are playing on HITZ, IRIE, and mixtape DJs like DJ Treasure, DJ Easy, DJ Lass and several deejays from Africa and Europe are supporting the project," Smith said.
Born in Manchester, Smith was a regular at dances in the 1980's. Oftentimes, he attended with aspiring artistes who made it big a decade later including Garnet Silk, Tony Rebel, Everton Blender, Uton Green, and Kulcha Knox.
A Toronto resident for nearly 30 years, Smith started Tasjay Productions in 2003 to celebrate the birth of his son, Tasjay junior. The label has released songs, albums, and EPs by Dixon, Martin, Patcha Blacks, and Kulcha Knox.