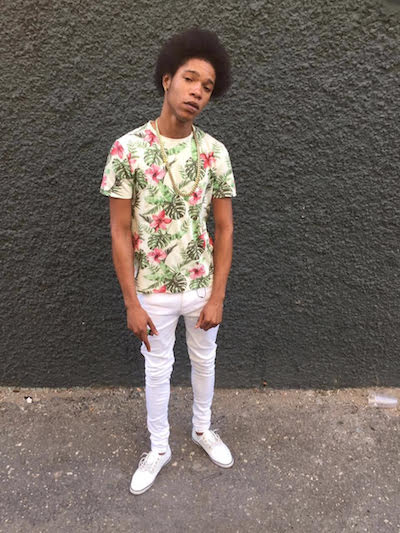 Breakout dancehall artiste Tanium is heating up the streets with his hard-hitting 'Up Now' single.
"The song is hot in the streets, the whole ah the uptown garrisons dem a sing it, people ah feel the vibes of the song and now that the video is out, trouble de de, nutten soft, nutten normal," Tanium said.
The official video, shot by Richie Bakez & Davyfreshh, was released earlier this week.
"Up Now" is the first single release from his soon-to-be-released EP for Tyme Dem Records.
"Right now, mi ah come fi take my place in dancehall and show the world what I have to offer," the brash young deejay said.
Born to parents, Hugh Daley, a JUTC bus driver and Rosalee Golding, a security guard at UHWI, he originally hailed from the parish of Westmoreland before moved to live to the Corporate Area at an early stage of his life, where he grew up in Hermitage, St. Andrew.
In his youth, he attended the Escarpment Road basic school, and Hope Valley Experimental, before graduating to Papine High school where he participated in various sports and represented the school throughout the Pepsi, Colts and Manning Cup competitions. He used to experiment with deejaying while in school and when he graduated in 2011, he continued to hone his craft.
He landed jobs at Island Grill for almost two years before working as a security guard at a well-known security company but music remained his first love.
He recorded his first single, Yes Man, for the label, Tyme Dem Records, in 2017.
"After I did that song, I began to experiment more with my sound and it just started to grow in me naturally over time because if you check the time span, there has been a major improvement in my voice and clarity over the years and I like this new compact style that combines trap-rap with my own style and flow," he said.
He has earned a reputation for his high energy performances at community stage shows in August Town and the Hermitage area
"My musical influences are Vybz Kartel, Buju Banton, Kymani and Damian Marley, I respect every artiste and what they bring to the Game. Everyone is born with a unique gift, and has greatness within," he said.
Tanium is managed by Demouy Foster and Tyrone Foster.